There are indications that the Indian economy is on growth trajectory, according to recent market research / analysis done by DART Analysts.  The country's GDP is forecasted to grow from 6.4% to 6.7% by 2024.  Several industry sectors are acting as pillars of support in its growth in the coming years.
The financial sector is at the forefront of India's economic expansion, significantly transforming through technological advancements and innovative fintech solutions.  The real estate sector plays a crucial role in India's development, with a focus on addressing housing needs.  Favorable government policies and low housing loan rates are fueling sustained growth, particularly in urban areas.  India's Information Technology sector continues to be a pillar of economic development.  It remains a global leader due to ongoing digital transformation initiatives in the domestic market and elsewhere.  These sectors are not only creating jobs but are also enhancing India's competitiveness on the international stage.
Here is an overview of the potential performance of top 10 industries which include financial services, pharmaceuticals, information technology, automobiles, and more.  The contribution of each will play an integral role in shaping India's economic landscape.  With the analysis of major players in each industry DART Consulting has analyzed the Compounded Annual Growth Rates (CAGR) of various sectors over a span of 5 years.   This analysis unveils valuable insights into the performance and potential of each industry.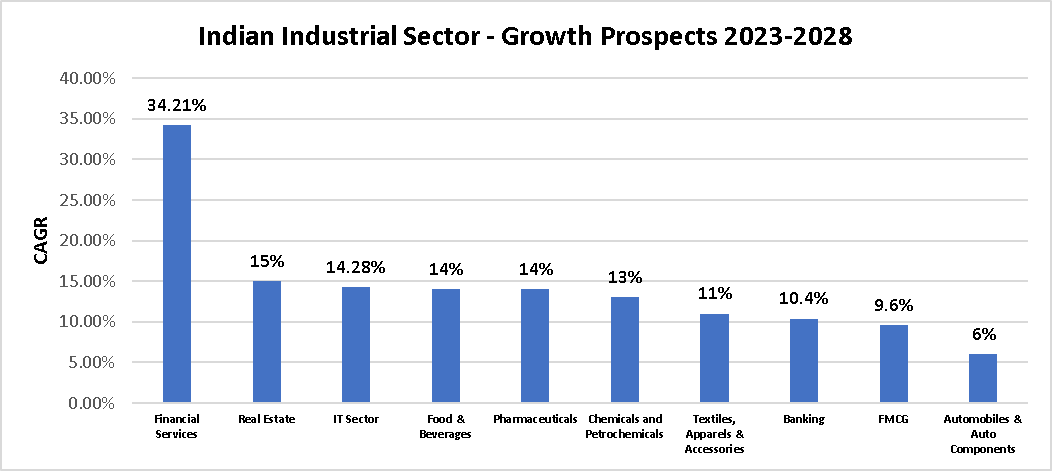 Financial Services (34.21% CAGR):
The financial services sector emerges as the frontrunner in terms of growth potential, boasting the highest expected CAGR in the coming years.  This remarkable figure underlines the sector's strategic adaptation to technology, government initiatives, and evolving consumer behaviors.  The robust growth suggests a reshaping of the financial landscape through fintech innovations, enhancing financial inclusion and fostering economic expansion.
2. Real Estate (15% CAGR):
The real estate sector claims a solid position with a 15% CAGR.  This growth projection signifies sustained interest in property investment, catalyzed by favorable government policies and low housing loan interest rates.  With urbanization and housing demand on the rise, the real estate sector plays a pivotal role in addressing housing needs while contributing to economic growth.
3. IT Sector (14.3% CAGR):
With a CAGR of 14.3%, the Information Technology sector maintains its status as a growth driver.  This consistent growth is a reflection of India's continued digital transformation, underscored by the Digital India initiative.  As businesses and individuals increasingly rely on digital services, the IT sector's contributions to economic development, job creation, and global competitiveness remain significant.
4. Pharmaceuticals (14% CAGR):
The pharmaceutical sector in India is poised for robust growth, with a 14% CAGR.  This growth underscores the ongoing demand for pharmaceutical products and healthcare solutions.  As India's middle class expands, and consumer preferences evolve towards better healthcare, the pharmaceutical industry is well-positioned to meet these demands and contribute significantly to the nation's well-being.
5. Food & Beverages (14% CAGR):
The Food and Beverages sector also projects substantial growth at 14% CAGR.  This growth is driven by the evolving preferences of consumers who seek diverse food and beverage options.  As income levels rise and the middle class expands, the sector is poised to cater to these changing tastes, aligning with the evolving culinary desires of the populace and contributing to overall economic development.
6. Chemicals and Petrochemicals (13% CAGR):
The chemicals & petrochemicals sector is expected to grow at a CAGR of 13%, reflecting its importance in industrial development.  This growth projection signifies rising demand for a diverse range of products across industries, driven by factors like government initiatives, global supply chain dynamics, and domestic consumption.
7. Textiles and Apparels (11% CAGR):
With an 11% CAGR, the textiles and apparels sector showcases steady growth prospects.  Abundant raw materials, skilled manpower, and government initiatives contribute to the sector's promise.  As the global appetite for textiles and apparel continues, this sector's potential for employment generation and export contribution is noteworthy.
8. Banking (10.4% CAGR):
Banking secures its role as a vital pillar of the economy with an expected CAGR of 10.4%.  Steady growth is expected due to increased disposable incomes, rural digitization, and the convenience of digital banking.  This projection reaffirms the sector's significance in financial inclusion and support for economic activities.
9. FMCG (9.6% CAGR):
The Fast-Moving Consumer Goods (FMCG) sector's growth projection of 9.6% highlights its role in catering to essential consumer needs.  Rising income levels and evolving brand preferences contribute to the sector's growth potential, reinforcing its position as a driver of economic activity.
10.  Automobiles and Auto-components (6.0% CAGR):
The automobile sector, with a 6.0% CAGR, shows a more moderate growth trajectory.  This projection aligns with the sector's role in mobility, job creation, and economic stability.  While relatively lower, the growth is still significant in a sector impacted by evolving consumer preferences and technological advancements.
DART Consulting's projected CAGR offers a glimpse into the exciting prospects for various industries in India's economy.  While financial services lead the pack with rapid growth, each sector plays a pivotal role in shaping the nation's economic future.  These growth rates underscore the changing dynamics of India's economy, which is characterized by technological innovation, changing consumer preferences, and government initiatives aimed at fostering growth across diverse industries.
DART Consulting provides business consulting through its network of Independent Consultants.  Our services include preparing business plans, market research, and providing business advisory services. More details at https://www.dartconsulting.co.in/dart-consultants.html