The food & beverage industry encompasses those companies that facilitate the production and manufacturing of various consumable food items.  The ecosystem includes the facilities which transport, serve, or sell such edible products.  This market predominantly consists of beverages & food manufacturing operations, catering, food joints, food transportation facilities, along with other closely related segments.  Being a developing nation with a rapidly expanding population base, India is witnessing an escalating demand for food & beverages.  As per market data, nearly 3% of India's GDP is contributed by the food & beverages industry.  The nation houses many food & beverage companies who have amplified their reach on a global level.  The Indian Food & Beverage Industry is reckoned to garner substantial gains in the coming years due to the indicated presence of various growth inducing factors.  Here is a quick overview of a few key players in the industry.
Nestle India
Nestle India Ltd (Nestle India), a subsidiary of Nestle SA, manufactures, markets and sells consumer food and beverages.  Its product portfolio includes dairy products, nutritional products, beverages, prepared dishes and cooking aids, chocolates, and confectionery.  In recent years, the company has also introduced products of daily consumption and use such as NESTLÉ Milk, NESTLÉ SLIM Milk, NESTLÉ Dahi, and NESTLÉ Jeera Raita. Nestlé.  It also exports its products to various countries across the world and is headquartered in Gurgaon, Haryana, India.
Hindustan Unilever
Hindustan Unilever (HUL) is a subsidiary of Unilever, one of the world's leading suppliers of Food, Home Care, Personal Care and Refreshment products with sales in over 190 countries.  The company offers packaged foods and refreshments and markets its products under the Bru, Magnum, Knorr, Taza, Lipton and Kissan brand names.  The company also offers ice cream, staples, health food drinks, culinary products, and frozen desserts.  HUL distributes products through a network of distributors and associates in India, Nepal, and other countries.  HUL is headquartered in Mumbai, Maharashtra, India.
Tata Consumer Products
Tata Consumer Products Ltd (TCPL) is a manufacturer and marketer of food products and non-alcoholic beverages, with a major focus on tea and coffee.  The company markets tea and coffee products under Tata Tea, Vitax, Eight O'Clock Coffee, Tetley, Tata Coffee Grand and Joekels brand names.  TCPL's food products include spices, pulses, healthy snacks, breakfast cereals, salt, poha and ready to mixes under Tata Sampann, Tata Salt, and Tata Soulfull brands.  The company's business operations span across Asia-Pacific, Europe, the Middle East, Africa, and North America.  TCPL is headquartered in Mumbai, Maharashtra, India.
Hatsun Agro Product Ltd
Hatsun Agro Product Ltd (HAP) is a dairy product company.  The company engages in the manufacturing, processing and marketing of dairy products such as milk, ice creams, dairy whitener, curd, skimmed milk powder, ghee, and paneer.  HAP markets its products under the brand names Arun Ice creams, Arokya Milk, Hatsun, Ibaco, Santosa and HAP Daily.  The company has manufacturing and distribution plants across major states of India.  It primarily exports dairy ingredients to the Americas, South Asia and the Middle East markets.  HAP is headquartered in Chennai, Tamil Nadu, India.
Varun Beverages Ltd Tanla Platforms Ltd
Varun Beverages Limited (VBL) is in the business of providing high quality food products to consumers such as carbonated, non-carbonated sweetened beverages and packaged drinking water with endeavor to make its business and ecosystem sustainable.  VBL is engaged in manufacturing, selling and distribution of PepsiCo's beverages in pre-defined territories in India.  The company is the world's second-largest international franchisee (outside United States) of carbonated soft drinks and non-carbonated beverages sold by PepsiCo India.  VBL manufactures, markets, and distributes PepsiCo owned products, which include carbonated soft drinks, carbonated juices, juice-based beverages, energy drinks and packaged bottled water, through its vast manufacturing facilities and well-established distribution network.
Industry Performance
The performances of key companies in the industry give indications that the industry has been reporting steady profits quite for a long time.  The reported margin of the key players was around 10.6% by taking into consideration of the last 3 years data.  Details are as follows.
| | | |
| --- | --- | --- |
| Companies | Net Margin | EBITDA/Sales |
| Nestle India | 14.50% | 23.70% |
| Hindustan Unilever | 17.10% | 24.80% |
| Tata Consumer Products | 10.80% | 16.20% |
| Hatsun Agro Product Ltd. | 3.40% | 9.80% |
| Varun Beverages Ltd | 7.40% | 16.30% |
| Industry Margins | 10.60% | 18.10% |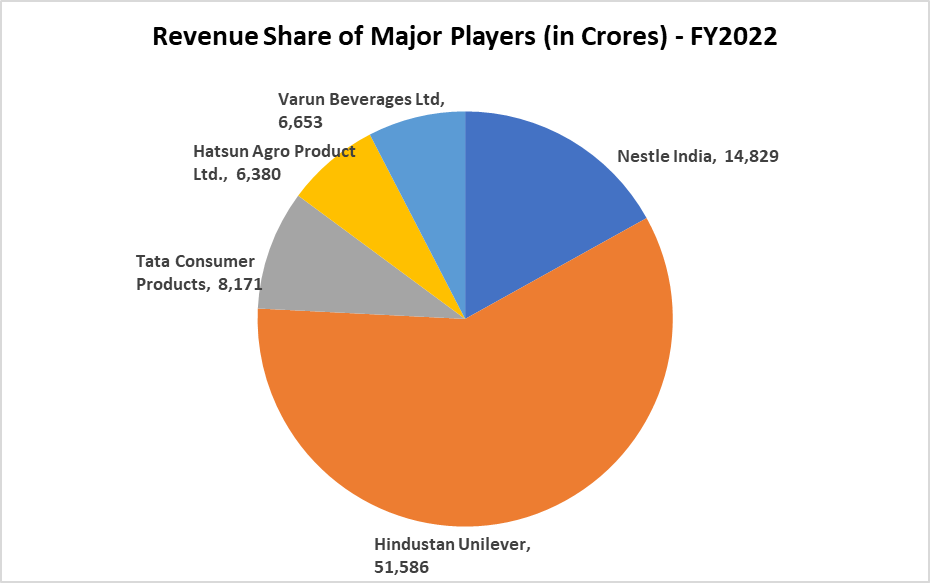 Industry Trends
Food & beverages are considered as the fastest growing industries in India.  The growth of the industry is supported by the availability of a large raw material production base.  With India's population skewed towards younger consumers, the majority of Indian consumption of food and beverages is driven by people between the ages of 18 and 40, which opens the opportunity for manufacturers to come with more varieties.  Some of the major growth drivers of this industry are:
Increasing Gourmet Brands – shifting consumption habits of Indian consumers from traditional food flavors to global food. High demand for healthy alternatives and growth in nutraceutical market.
Growth in Bakery Segments – Increasing consumption of biscuits and cookies which accounts for about 72% of the total sales in the F&B industry is primarily boosting the growth in this segment.
Further, the increased affluence of the ever-growing working population with increase in disposable income, rising urbanization leading to changing lifestyles and less time to prepare food at home, increase in tourism in India and international travel, and increase in consumption of fast-growing food and beverage segments
India's food ecosystem offers huge opportunities for investments with stimulating growth in the food retail sector, favorable economic policies, and attractive fiscal incentives.  The industry is attracting major investments and favorable government policies as follows.
The Union government approved a new PLI scheme for the food processing sector, with a budget outlay of INR 109 billion (US$1.46 billion). Incentives under the scheme will be disbursed for six years to 2026-27
Total 46 new projects approved under Operation Greens Scheme in the Calendar Year 2022 with an outlay of INR 2218.69 Cr.
In August 2022, a Special Food Processing Fund of Rs. 2,000 crore (US$ 242.72 million) was set up with National Bank for Agriculture and Rural Development (NABARD) to provide affordable credit for investments in setting up Mega Food Parks (MFP) as well as processing units in the MFPs.
In July 2022, PM Formalization of Micro food processing Enterprises (PMFME) scheme was launched for providing financial, technical, and business support for setting up/ upgradation of micro food processing enterprises in the country with an outlay of Rs. 10,000 crore (US$ 1.27 billion)."
Through a comprehensive analysis of the top contributing companies for the last three years, we can ascertain that the sector witnessed compounded annual growth rate (CAGR) of 11.7% at the end of 2022.  Details are as below.
| | |
| --- | --- |
| Companies | CAGR |
| Nestle India | 7.42% |
| Hindustan Unilever | 8.10% |
| Tata Consumer Products | 20.90% |
| Hatsun Agro Product Ltd. | 8.70% |
| Varun Beverages Ltd | 13.50% |
| Industry Margins | 11.70% |
The Food and beverage industry is expected to grow over the following few years, according to market indications.  The industry expects various investment and growth opportunities, hence attracting new players and competition.  It makes us to believe that the CAGR in the coming next years will have an add on growth of around 20%, and thus industry is expected to exhibit CAGR of 14% in the next five years from 2023 to 2027.  This is further supported by that fact if we remove the top two behemoths from the list,  the industry the average growth was around 14% in the last few years, and hence the same is achievable.
DART Consulting provides business consulting through its network of Independent Consultants.  Our services include preparing business plans, market research, and providing business advisory services. More details at https://www.dartconsulting.co.in/dart-consultants.html