India's banking sector is sufficiently capitalized and well-regulated. The financial and economic conditions are comparatively better even by comparing with well developed economies. Indian banks are generally resilient and have withstood the global downturn well as can be noted by reviewing previous years records.
The Indian banking industry has recently witnessed the rollout of innovative banking models like payments and small finance banks. In recent years, the Banks are increasingly focusing widening banking reach, through various schemes like the Pradhan Mantri Jan Dhan Yojana and Post payment banks. The rise of Indian NBFCs and fintech have significantly enhanced India's financial inclusion and helped fuel the credit cycle in the country.
Here is a quick overview of key players in the industry.
HDFC Bank Ltd
HDFC Bank Ltd (HDFC) offers personal and corporate banking, private and investment banking, and other related financial solutions to individuals, MSMEs, government, and agriculture sectors, financial institutions and trusts, and non-resident Indians. It provides a range of deposit services and card products; loans for homes, cars, commercial vehicles, and other personal and business needs; insurance for life, health, and non-life risks; and investment solutions such as mutual funds, bonds, equities, and derivatives. HDFC also provides services such as cash management, corporate finance advisory, customized banking solutions, project and structured finance, trade financing, foreign exchange, internet banking, and payment and settlement services, among others. The bank operates in India through a network of branches, ATMs, phone banking, net banking, and mobile banking. It has overseas branches in Bahrain, Hong Kong, and the UAE, and representative offices in the UAE and Kenya. HDFC is headquartered in Mumbai, Maharashtra, India.
ICICI Bank Ltd
ICICI Bank Ltd (ICICI Bank) provides personal and corporate banking, investment banking, private banking, venture capital, life and non-life insurance solutions, securities broking, and asset management services to corporate and retail clients, high-net-worth individuals, and SMEs. It offers a wide range of products such as deposits accounts including savings and current accounts, and resident foreign currency accounts; investment products; and consumer and commercial cards. ICICI Bank offers to lend for home purchase, commercial business requirements, automobiles, personal needs, and agricultural needs. The bank offers services such as foreign exchange, remittance, import and export financing, advisory, trade services, personal finance management, cash management, and wealth management. It has an operational presence in Europe, Middle East, and Africa (EMEA), the Americas, and Asia. ICICI Bank is headquartered in Mumbai, Maharashtra, India.
State Bank of India
State Bank of India (SBI) is a universal bank. It provides a range of retail banking, corporate banking, and treasury services. The bank serves individuals, corporates, and institutional clients. Its major offerings include deposits services, personal and business banking cards, and loans and financing. The bank provides services such as mobile banking, internet banking, ATM services, foreign inward remittance, safe deposit locker, money transfer, mobile wallet, trade finance, merchant banking, project export finance, treasury, offshore banking, and cash management services. It operates in Asia, the Middle East, Europe, Africa, and North and South America. SBI is headquartered in Mumbai, Maharashtra, India.
Punjab National Bank
Punjab National Bank (PNB) offers retail and commercial banking, agricultural and international banking, and other financial services. Its retail and commercial banking portfolio offers credit and debit cards, corporate and retail loans, deposit services, cash management, and trade finance. Its international banking portfolio includes foreign currency accounts, money transfers, letters of guarantee, and world travel cards, and solutions to non-resident Indians. PNB also offers merchant banking, mutual funds, depository services, insurance, and e-services. The bank operates in India and has overseas operations in the UK, Bhutan, Myanmar, Bangladesh, Nepal, and the UAE. PNB is headquartered in New Delhi, India.
Bank of Baroda
Bank of Baroda (BOB) offers retail, agriculture, private and commercial banking, and other related financial solutions. It includes loans, deposit services, and payment cards. The bank offers loans for homes, vehicles, education, agriculture, personal and corporate requirements, mortgage, securities, and rent receivables, among others. It provides current and savings accounts; fixed and recurring deposits; debit, credit, and prepaid cards. The bank also provides insurance coverage for life, health, and general purposes. It offers services such as treasury, financing, mutual funds, cash management, international banking, digital banking, internet banking, start-Up banking, and wealth management. The bank has operations in Asia-Pacific, Europe, North America, and the Middle East and Africa. BOB is headquartered in Baroda, Gujarat, India.
Industry Performance
The health of the banking system in India has shown steady improvement, according to the Reserve Bank of India's latest report on trends in the sector. From capital adequacy ratio to profitability metrics to bad loans, both public and private sector banks have shown visible improvement. And as credit growth has also witnessed an acceleration in 2021-22, banks have seen an expansion in their balance sheet at a pace that is a multi-year high. As of November 4, 2022, bank credit stood at Rs. 129.26 lakh crore (US$ 1,585.09 billion). As of November 4, 2022, credit to non-food industries stood at Rs. 128.87 lakh crore (US$ 1.58 trillion).
Given the increasing intensity, spread, and duration of the pandemic, economic recovery the performances of key companies in the industry was positive. The reported margin of the industry by analyzing the key players was around 13.7% by taking into consideration the last 3 years' data. Details are as follows.
| | | |
| --- | --- | --- |
| Companies | Net Margin | EBITDA/Sales |
| HDFC Bank Ltd. | 23.5% | 31.2% |
| ICICI Bank Ltd. | 22.3% | 30.4% |
| State Bank of India | 10.0% | 25.7% |
| Punjab National Bank | 4.0% | 10.0% |
| Bank of Baroda | 8.9% | 13.9% |
| Industry Margins | 13.7% | 22.2% |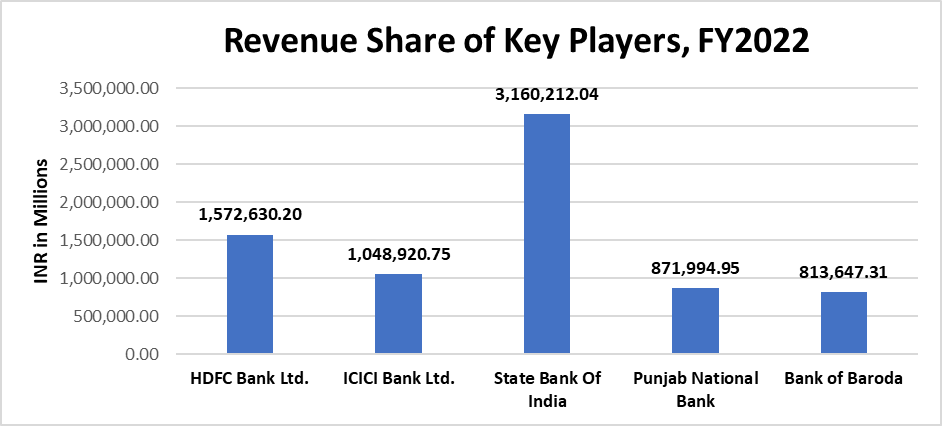 Industry Trends
The macroeconomic picture for 2023 portends mixed fortunes for consumer payment players. Higher rates should boost banks' net interest margins for card portfolios, but persistent inflation, depletion of savings, and a potential economic slowdown could weigh on consumers' appetite for spending. Digital identity is expected to evolve as a counterbalancing force to mitigate fraud risks in the long run. Transaction banking businesses are standing firm despite recent market uncertainties. For many banks, these divisions have been a steady source of revenues and profits.
Over the long term, banks will need to pursue new sources of value beyond product, industry, or business model boundaries. The new economic order that will likely emerge over the next few years will require bank leaders to forge ahead with conviction and remain true to their purpose as guardians and facilitators of capital flows. With these factors in mind, the industry is still showing huge growth potential, some of the growth divers that is propelling the industry are:
Rising rural income pushing up demand for banking
Rapid urbanisation, decreasing household size & easier availability of home loans has been driving demand for housing.
Growth in disposable income has been encouraging households to raise their standard of living and boost demand for personal credit.
The industry is attracting major investments as follows.
On June 2022, the number of bank accounts—opened under the government's flagship financial inclusion drive 'Pradhan Mantri Jan Dhan Yojana (PMJDY)'—reached 45.60 crore and deposits in the Jan Dhan bank accounts totaled Rs. 1.68 trillion (US$ 21.56 billion).
Some of the major initiatives taken by the government to promote the industry in India are as follows:
As per the Union Budget 2022-23:
National Asset reconstruction company (NARCL) will take over, 15 non-performing loans (NPLs) worth Rs. 50,000 crores (US$ 6.70 billion) from the banks.
National payments corporation India (NPCI) has plans to launch UPI lite this will provide offline UPI services for digital payments. Payments of up to Rs. 200 (US$ 2.67) can be made using this.
In the Union budget of 2022-23 India has announced plans for a central bank digital currency (CBDC) which will be possibly know as Digital Rupee.
Through analyzing the performance of the contributing companies for the last three years, we can ascertain that the sector witnessed compounded annual growth rate (CAGR) of 9.9% at the end of 2022. Details are as below.
| | |
| --- | --- |
| Companies | CAGR |
| HDFC Bank Ltd. | 14.02% |
| ICICI Bank Ltd. | 7.3% |
| State Bank of India | 8.4% |
| Punjab National Bank | 9.2% |
| Bank of Baroda | 10.7% |
| Industry CAGR | 9.9% |
Working through partnerships both with NBFCs and FinTech is high on the agenda of the Indian banking sector, and this is an area of focus of the FICCI National Committee on Banking. Banks will have to play a very constructive role as India aspires to be the leading economy in future. The strengthened banking sector has the potential to contribute directly and indirectly to GDP, increase job creation and enhance median income. Technology interventions to strengthen the quality and quantity of credit flow to the priority sector will be an important aspect. The need for sustainable finance / green financing is also gaining importance.
With these attributes boosting the sector, the Indian banking industry is likely to grow 5% more than the reported growth rate and is expected to exhibit CAGR of 10.4% in the next five years from 2023 to 2027.
DART Consulting provides business consulting through its network of Independent Consultants.  Our services include preparing business plans, market research, and providing business advisory services. More details at https://www.dartconsulting.co.in/dart-consultants.html