The pharmaceutical industry in India is the world's 3rd largest by volume and 14th largest in terms of value.  India is one of the largest suppliers of low-cost vaccines in the world.  Because of the low price and high quality, Indian medicines are preferred worldwide, thereby rightly making the country the "Pharmacy of the World".  India's pharmaceutical sector forms a major component of the country's foreign trade, with attractive avenues and opportunities for investors.  The country supplies affordable and low-cost generic drugs to millions of people across the globe and operates a significant number of United States Food and Drug Administration (USFDA) and World Health Organization (WHO) Good Manufacturing Practices (GMP)-compliant plants.  India has occupied a premier position among pharmaceutical manufacturing countries of the world.
Major Segments of Pharmaceutical Industry are.
Generic drugs
OTC Medicines and API/Bulk Drugs
Vaccines
Contract Research & Manufacturing
Biosimilars & Biologics
Here is a quick overview of the key players in the industry.
Sun Pharmaceutical Industries Limited
Sun Pharmaceuticals is the largest pharmaceutical company from India and the fifth largest specialty generic company in the world.  It has capabilities across dosage forms like injectables, sprays, ointments, creams, liquids, tablets, and capsules.  Its businesses include producing generics, branded generics, specialty, over the counter (OTC) products, anti-retrovirals (ARVs), active pharmaceutical ingredients (APIs) and intermediates in the full range of dosage forms.  It also produces specialty APIs.
Cipla Ltd
Cipla is a leading pharmaceutical from India with presence across the world.  It was established in 1935 as Chemical Industrial & Pharmaceutical Laboratories Ltd and changed to its current name in 1984.  The company has a vast portfolio with more than 1,500 products on the market.  The company's business is divided into three strategic units – APIs, respiratory and Cipla Global Access.  Its largest market is India, followed by Africa and North America.
Dr.  Reddys Laboratories Ltd
Dr. Reddy's Laboratories Ltd. is an integrated pharmaceutical company, committed to providing affordable and innovative medicines for healthier lives.  Through its three businesses – Pharmaceutical Services & Active Ingredients, Global Generics and Proprietary Products.  The company offers a portfolio of products and services including APIs, custom pharmaceutical services, generics, biosimilars and differentiated formulations.  Its major therapeutic areas of focus are gastrointestinal, cardiovascular, diabetology, oncology, pain management and dermatology.  Dr. Reddy's operates in markets across the globe.
Alkem Laboratories Ltd
Alkem Laboratories Limited is a leading Indian pharmaceutical company with global operations.  The company is engaged in the development, manufacture, and sale of pharmaceutical and nutraceutical products.  The company produces branded generics, generic drugs, active pharmaceutical ingredients (APIs) and nutraceuticals, which it markets in India and international markets.  With a portfolio of more than 800 brands in India, Alkem is ranked the fifth largest pharmaceutical company in India in terms of domestic sales.  The company also has presence in more than 40 international markets, with the United States being its key focus market.
Zydus Lifesciences Ltd
Zydus Lifesciences Ltd., formerly Cadila Healthcare Limited, is an India-based life sciences company.  The Company is focused on delivering care and nurturance for patients, backed by science and cutting-edge technology.  The Company has a pipeline for Biologics and Vaccines.  The Company has operations globally and is present in approximately 55 countries worldwide, with 36 manufacturing plants and eight research and development centers.
Industry Performance
Indian pharma industry has grown 10 times in the last two decades driven by its strength in the global generics space.  In the midst of the pandemic and a changed world, the pharmaceutical industry across the world has responded with agility —from the sequencing of the novel coronavirus to vaccines being administered across the world.  It is imperative that India revaluates its current role within the global pharmaceutical industry, explore possibilities to consolidate and strengthen its positioning in light of geopolitical and economic shifts, attain self-sufficiency as a globally competitive pharmaceutical industry.
The performance of the key companies indicates that the Indian Pharma industry is growing at par with the global growth.  The reported margin of these key players was around 11.9% by taking into consideration the last 3 years' data.  Details are as follows.
| | | |
| --- | --- | --- |
| Companies | Net Margin | EBITDA/Sales |
| Sun Pharmaceutical Industries Limited | -0.60% | 21.00% |
| Cipla Ltd | 21.50% | 29.10% |
| Dr.  Reddys Laboratories Ltd | 10.90% | 20.40% |
| Alkem Laboratories Ltd | 17.10% | 21.80% |
| Zydus Lifesciences Ltd | 10.50% | 24.00% |
| Industry Margins | 11.90% | 23.30% |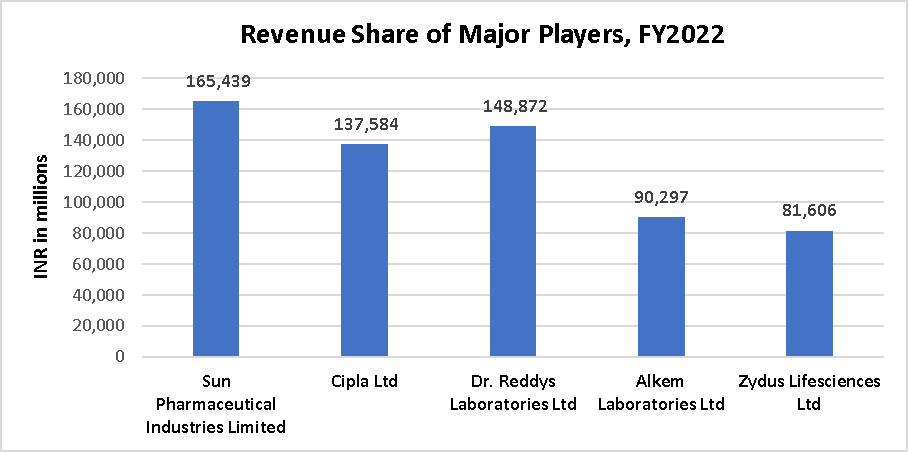 Industry Trends
The pharma industry exceeded expectations in responding to this global crisis, supplying drugs to over 150 countries besides meeting all domestic demands.  The overall growth has been driven by the industry's leadership in supplying generic formulations to markets across the globe.  Some of the key drivers for further growth are:
Established ecosystem to support pharma manufacturing – Indian manufacturing infrastructure has evolved from export of simple APIs to becoming one of the largest generic drug exporters to global markets.
Lower manufacturing cost – Approximately 33% lower manufacturing cost than that of the U.S. and half of Europe enables India to manufacture high-quality medicines at competitive prices.
Government initiatives – Government initiatives like New Drug and Clinical Trial Rules, 2019, easing of FDI norms and Make in India to support local manufacturing.
Large pool of qualified personnel – India has a large, growing trained and skilled medical workforce to support the establishment of largescale pharmaceutical manufacturing projects.
The recent policy changes and government reforms in the space have positioned India as a preferred market for global investments and establishing local manufacturing facilities.  The industry is attracting major investments as follows.
The FDI inflows in the Indian drugs and pharmaceuticals sector reached US$19.90 billion between April 2000-June 2022.
The Indian drugs and pharmaceuticals sector received cumulative FDIs worth US$19.41 billion between April 2000-March 2022.
In September 2021, the Indian government contributed US$4 billion to the pharmaceutical and medical industries.
Some of the major initiatives taken by the government to promote the industry in India are as follows:
"As per the Union Budget 2022-23:
The Ministry of Health and Family Welfare has allocated funds for research and 'National Health Mission'
In March 2022, under the Strengthening of Pharmaceutical Industry (SPI) Scheme, a total financial outlay of Rs. 500 crore (US$ 665.5 million) for the period FY 2021-22 to FY 2025-26 were announced."
The  pharmaceuticals industry has witnessed a compounded annual growth rate (CAGR) of 11.3% considering the performance of key contributing companies of for the last three years the .  Details are as below.
| | |
| --- | --- |
| Companies | CAGR |
| Sun Pharmaceutical Industries Limited | 14.7% |
| Cipla Ltd | 4.4% |
| Dr.  Reddys Laboratories Ltd | 7.6% |
| Alkem Laboratories Ltd | 13.5% |
| Zydus Lifesciences Ltd | 16.2% |
| Industry CAGR | 11.3% |
With increased pricing pressure on the global generics trade as well as increased competition in India's established export corridors, the current portfolio of products is expected to further boost the industry growth.  The industry reports a higher profit margin and hence would be attractive for investors.  Considering the growth rate of the top three performing companies, the industry had reported an average CAGR of 14.8% during the past three years.  This promising growth combined with the government's initiate in the industry especially easing FDI in the sector and other positive factors make us to believe that the industry would grow around 14% which is higher by 20% of the current industry growth, as already reported.  Such a growth rate has already been achieved by the top three performers and hence it would be possible for the industry  to achieve the same growth with the changed circumstances.
DART Consulting provides business consulting through its network of Independent Consultants.  Our services include preparing business plans, market research, and providing business advisory services. More details at https://www.dartconsulting.co.in/dart-consultants.html