India is known as one among the world's largest producers of Textiles and Apparel. The textiles and apparel industry in India spreads across the entire value chain from fiber, yarn, fabric to apparel. The Indian textile and apparel industry is highly diversified with wide range of segments ranging from products of traditional handloom, handicrafts, wool, and silk products to the organized textile industry in India. The organized textile industry in India is characterized by the use of capital-intensive technology for the mass production of textile products and includes spinning, weaving, processing, and apparel manufacturing. USA was the top export destination, followed by EU, Bangladesh, and UAE.  Here is a quick overview of key players in the industry.
Page Industries
Page Industries Limited is an India-based company that is engaged in the business of manufacturing and trading garments. The Company offers knitted garments. The Company offers range of products for men, women and children. The Company is engaged in the manufacturing, distribution, and marketing of Jockey products. It holds the license of SPEEDO, an international brand for swimwear. The Company's Jockey brand products are sold through exclusive brand outlets (EBO), large format stores (LFS), multi-brand outlets (MBO), traditional hosiery stores and multi-purpose stores spread across India. It has six operational EBOs outside India, four in UAE and two in Sri Lanka.
Trident
Trident Ltd (Trident) manufactures, markets and exports home textile, yarn, paper, and chemicals. The company's product portfolio comprises cotton combed yarn, open-end yarn, zero twist yarn, air rich yarn, bed linen and bath linen, copier paper, writing and printing paper, bible and offset printing paper, maplitho paper and sulphuric acid. It markets products under Royal Touch, Spectra, My Choice, Natural, Enviro, Digi Print. The company operates in India, the US, Italy, the UK, France, Japan, and Australia. Trident is headquartered in Ludhiana, Punjab, India.
KPR Mill
KPR Mill Ltd (KPR Mill) is a manufacturer of apparel and sugar products. The company produces yarn, knitted grey, dyed fabric, and readymade garments. KPR Mill produces yarns in various variants such as fabrics, readymade knitted apparel, compact, carded, melange, combed, vortex viscose, polyester, and fancy yarn. The company offers a range of sportswear, casual wear, sleepwear, active wear, and workwear. It is also involved in fabric dyeing and processing, printing and knitting business. The company offers its garments under the Faso brand name. KPR Mill is headquartered in Coimbatore, Tamil Nadu, India.
Arvind Ltd
Arvind Limited is an India-based vertically integrated textile company. The Company's segments include Textiles, Advanced Materials and Others. The Textiles segment includes fabrics, garments, and fabric retail. The Advanced Materials segment consists of human protection fabrics and garments, industrial products, advanced composites, and automotive fabrics. It also manufactures a range of cotton shirting, denim, knits, and bottom weights (Khakis) fabrics and jeans and shirts garments. The company headquarter is in Ahmedabad, Gujarat, India.
Himatsingka Seide
Himatsingka Seide Ltd (HSL) is a vertically integrated company that manufactures, markets, retails and distributes various home textile products. The company is in spinning, weaving, and finishing of textiles, and manufacturing of other textiles. The company also offers spun silk yarns and silk blended yarns. HSL markets its products under various brands such as Calvin Klein, Barbara Barry, Bellora, Homegrown Cotton, Waverly, Royal Velvet, Tommy Hilfiger, Kate Spade, among others. The company owns and manages various retail and distribution networks across North America, Europe, the UK, Asia Pacific, the Middle East, and Africa. HSL is headquartered in Bengaluru, Karnataka, India.
Industry Performance
India has held superiority in the textile and apparel industry since decades, but the sector experienced a temporary dent between 2020 and early 2021 due to the widespread pandemic. It only required a mere push for India amidst globally reviving economic conditions and the country made sure to catch hold of the positivity and healthy demand both in overseas and domestic markets.
The performances of key companies in the industry give indications that the industry has recovered from the pandemic and are making profits. The reported margin of the industry by analyzing the key players was around 9.8% by taking into consideration the last 3 years' data. Details are as follows.
| | | |
| --- | --- | --- |
| Companies | Net Margin | EBITDA/Sales |
| Page Industries | 13.70% | 19.80% |
| Trident | 11.70% | 20.50% |
| KPR Mill | 17.60% | 25.40% |
| Arvind Ltd | 0.70% | 8.60% |
| Himatsingka Seide | 5.40% | 11.70% |
| Industry Margin | 9.80% | 17.20% |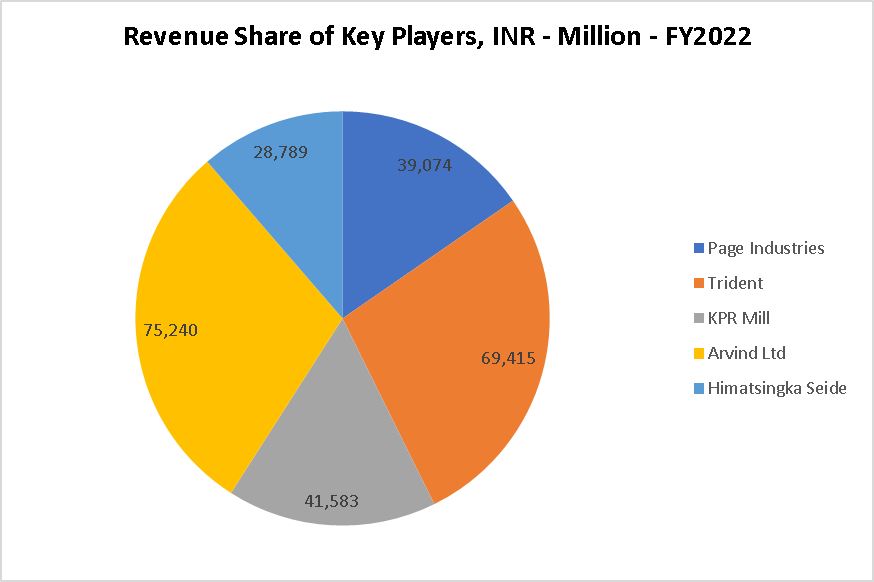 Industry Trends
Apparel remains a growing category, even with regard to domestic retail industry, and the Indian fashion retailers have been experiencing better sales revenues, which is pushing these retailers to go ahead with held up plans of store openings. This trend has benefited the domestic apparel and textile factories as they continue to see better margins in their businesses. Here are some of the major growth drivers that is propelling the textile and apparel industry in India.
Rising income has been a key determinant of domestic demand for the sector; with income rising in the rural economy as well. The upward push on demand from rising income is set to continue. Rising industrial activity would support the growth in per capita income.
Strong fundamentals and policy support aiding growth.
Capacity built over years has led to low cost of production per unit in India's textile industry. This has lent a strong competitive advantage to the country's textile exporters over key global peers.
With global retail brands assured of a domestic foothold, outsourcing will also rise significantly.
The industry is attracting major investments as follows.
The industry (including dyed and printed) attracted foreign direct investment (FDI) worth US$ 4.03 billion from April 2000-June 2022. The textiles sector has witnessed a spurt in investment during the last five years. And would further attract a similar investment in coming years.
The Government is taking initiatives to attract foreign investment in the textile sector through promotional visits to countries such as Japan, Germany, Italy and France.
According to the new Draft of the National Textile Policy, the Government is planning to attract foreign investment and create employment opportunities for 35 million people.
International apparel giants like Hugo Boss, Liz Claiborne, Diesel and Kanz have already started operations in India.
Some of the major initiatives taken by the government to promote the industry in India are as follows:
In June 2022, Minister of Textiles, Commerce and Industry, Consumer Affairs & Food and Public Distribution, stated that the Indian government wants to establish 75 textile hubs, which will greatly increase employment opportunities while promoting the export of textile products and ensuring the use of sustainable technology.
Indian textile exports to Australia and the UAE would now face zero duties, and soon Europe, Canada, the UK and GCC countries would also welcome Indian textile exports at zero duty.
The Government of India has earmarked a corpus of Rs. 1,000 crore (US$ 127.72 million) dedicated for research and development of the technical textiles sector.
Under the Union Budget 2022-23, the total allocation for the textile sector was Rs. 12,382 crore (US$ 1.62 billion). Out of this, Rs.133.83 crore (US$ 17.5 million) is for the Textile Cluster Development Scheme, Rs. 100 crore (US$ 13.07 million) for the National Technical Textiles Mission, and Rs. 15 crore (US$ 1.96 million) each for PM Mega Integrated Textile Region and Apparel parks scheme and the PLI Scheme."
Through analyzing the performance of the contributing companies for the last three years, we can ascertain that the sector witnessed compounded annual growth rate (CAGR) of 10.5% at the end of 2022. Details are as below.
| | |
| --- | --- |
| Companies | CAGR |
| Page Industries | 12.62% |
| Trident | 7.50% |
| KPR Mill | 13.10% |
| Arvind Ltd | 4.40% |
| Himatsingka Seide | 14.90% |
| Industry CAGR | 10.50% |
The Textiles, Apparels & Accessories sector is expected to grow over the following few years, according to estimates. However, despite growth, no certainty can be stamped, especially looking at the overall scenario. The export demand is expected to stay affected as inflation, rising interest rates, high fuel rates and geo-political disturbances reduce demand visibility. At the same time, pressure on input costs is likely to remain strong at least until November when new crop arrival may soften cotton prices moderately.
But companies across all the product and market segments are enthusiastic about the future. A few companies have planned to overcome the future challenges by laying out a proper growth plan and they are ready to come up with more offerings, exploring new geographies to increase their presence. This factor would increase the growth in the industry by 5% more than the reported growth, the industry is expected to exhibit CAGR of 11.1% in the next five years from 2023 to 2027.
DART Consulting provides business consulting through its network of Independent Consultants.  Our services include preparing business plans, market research, and providing business advisory services. More details at https://www.dartconsulting.co.in/dart-consultants.html