The Information Technology and Software industry is a global powerhouse today in India, and its impact on country's economic development is incomparable. The Information Technology sector has contributed immensely in positioning the country as a preferred investment destination amongst global investors. Further, it created huge job opportunities in India, as well as in the USA, Europe and other parts of the world. In the last decade, the industry has grown many folds in revenue terms, and relative share to India's GDP is around 7 – 8% in FY2021-22.
The IT and software industry has a leading position globally and has been progressively contributing to the growth of exports and creation of employment opportunities. Having proven its capabilities in delivering both on-shore and off-shore services to global clients, the emerging technologies now offer an entire new gamut of opportunities for top IT firms in India.  Some of the major Software & IT Services provided by businesses are:
Software development
Software as a service (SaaS)
Remote support
Troubleshooting and technical support
Technology training
Backup solutions
Network security
Voice over internet protocol (VoIP)
Monitoring
Email services
Information reporting
Both India based IT service providers and IT Product companies were reviewed to identify the growth prospects of combined sectors in India.
Here's a quick overview of key players in the IT services segment.
Infosys Ltd
Infosys Ltd (Infosys) is a provider of technology-enabled business solutions. The company offers a wide range of services. Its products and services find applications in various industries such as aerospace and defense, agriculture, automotive, communication services, consumer packaged goods, education, financial services, healthcare, high technology, industrial manufacturing, information services and publishing, insurance, life sciences, logistics and distribution, media and entertainment, mining, oil and gas, professional services, public sector, retail, travel, and hospitality and utilities. The company has a market presence in the Americas, Europe, the Middle East, Africa, and Asia-Pacific. Infosys is headquartered in Bengaluru, Karnataka, India.
Wipro Ltd
Wipro Ltd (Wipro) is a provider of software solutions, IT consulting, and business process outsourcing (BPO) services. The company's IT service offerings include digital strategy advisory, technology consulting, custom application design, development, re-engineering and maintenance, IT consulting and more. Wipro serves various industries, including healthcare, retail, aerospace and defense, public sector, banking and financial services, engineering and construction, oil and gas, retail, travel and transportation, media, education, automotive, and consumer electronics. The company has a business presence across Asia Pacific, Europe, the Middle East, Africa, and the Americas. Wipro is headquartered in Bengaluru, Karnataka, India.
Tech Mahindra Ltd
Tech Mahindra Ltd (TechM) provides information technology (IT) services and solutions. The company offers consulting, digital supply chain services, infrastructure management services, integrated engineering solutions, BPO, platform solutions, network services, and testing services. TechM also provides new generation solutions, such as cloud computing, big data, machine learning, artificial intelligence, cyber security, data analytics, and Internet of Things (IoT). The company offers services to various industries, including banking, financial services, and insurance; communication; energy and utilities; healthcare and life sciences; manufacturing; public sector and government; retail and consumer goods; hi-tech, media, and entertainment; travel, transportation, hospitality and logistics; and oil and gas. TechM is headquartered in Pune, Maharashtra, India.
MindTree Ltd
Mindtree Ltd (Mindtree), a subsidiary of Larsen & Toubro Ltd, provides technology services and digital transformation from ideation to execution. The company offers cloud, consulting, data and intelligence, internet of things and artificial intelligence/machine learning, analytics, information, infrastructure and business process management, application development and maintenance, and enterprise IT services. Its enterprise software includes Oracle, SAP, Microsoft, and Salesforce. Mindtree serves several industries, including communications, media and entertainment, retail, manufacturing, insurance, banking, capital markets, consumer electronics, consumer packaged goods, enterprise technology, education, travel, hospitality, transportation, healthcare and logistics. It has a presence in India, and countries across Middle East, North America, Europe, and Asia-Pacific. Mindtree is headquartered in Bengaluru, Karnataka, India.
Mphasis Ltd
Mphasis Ltd is a technology company that offers applications services, infrastructure services and business process outsourcing services. The company's services comprise application development, applications management, enterprise application services, technology practices, consulting services, remote monitoring, human resource outsourcing, data center services, network services, mortgage services, managed maintenance services, and others. It offers services in the areas of banking, capital markets, healthcare, life sciences, manufacturing, communications, media and entertainment, retail, transportation, government and energy and utilities. The company operates in the US, the UK, Germany, Belgium and France. Mphasis is headquartered in Bengaluru, Karnataka, India
An overview of key players in the IT products segment is given below.
Tata Elxsi Ltd
Tata Elxsi is a design company that designs and engineers' products and solutions for various sectors. It addresses communications, consumer products, defense, healthcare, media and entertainment, semiconductor, and transportation industries. The company's services include embedded product design, industrial design, animation and visual effects, and systems integration. It operated as a part of the Tata group.
Tanla Platforms Ltd
Tanla Platforms Limited collaborates and communicates through innovative CPaaS solutions. Tanla enables communication between enterprises and their customers through multiple channels including SMS, Voice, email, RCS, OTTs such as WhatsApp, FB messenger, and push notifications. The company processes more than 800 billion interactions annually and about 70% of India's A2P SMS traffic is processed through its distributed ledger platform-Trubloq, making it the world's largest Blockchain use case. Tanla Platforms Limited is headquartered in Hyderabad, India and is expanding its presence globally.
Cigniti Tech
Cigniti Technologies Limited is the world's leading AI & IP-led Digital Assurance and Digital Engineering services company that helps global companies across industries continuously accelerate their Digital Transformation and become Digital-First. Headquartered in Hyderabad, India. The company's offerings include Digital Assurance, QE, Advisory & Transformation, Enterprise Application Assurance, Data & Insights, Business Intelligence/Visualization, AI/ML, Product Engineering, Blockchain, and Intelligent Automation – RPA.
InfoBeans Tech
InfoBeans Technologies Limited is primarily engaged in software development services. The Company specializes in business applications for the Web and mobile and operates at capability maturity model integration (CMMI) level three. Its digital transformation solutions include cloud, user experience (UX), application modernization, packaged implementation, and enterprise mobility. Its product engineering solutions include robotic process automation (RPA), salesforce, ServiceNow, continuous integration and continuous delivery (CICD) and agile testing framework (ATF), content management system (CMS), automation, and data transformation. It serves markets, such as the United States of America, Middle East, Europe and India.
CMS Info Systems Ltd
CMS is India's largest Cash Management and Payment Solutions firm, and the world's fifth largest ATM Cash Management company. The company offers its customers a wide range of tailored cash management and managed services solutions, including ATM network management, retail management and managed services.
Industry Performance
The performances of key companies in the industry give indications that the industry is profit making and would be growing in the coming years.  The reported margin of the key players in the IT Products and Services segments was around 16.8% and 14.3% respectively, taking into consideration the last 3 years' data. Details are as follows.
IT Product segment
IT Services segment
Companies
Net Margin
EBITDA/Sales
Companies
Net Margin
EBITDA/Sales
Infosys Ltd
19.80%
28.90%
Tata Elxsi Ltd
21.90%
31.80%
Wipro Ltd
18.90%
26.10%
Tanla Platforms Ltd
9.30%
12.60%
Tech Mahindra Ltd
13.60%
19.20%
Cigniti Tech
8.40%
17.50%
MindTree Ltd
15.30%
22.60%
InfoBeans Tech
16.80%
22.60%
Mphasis Ltd
16.40%
23.60%
CMS Info Systems Ltd
15.00%
26.20%
Industry Margins
16.80%
24.10%
Industry Margins
14.30%
22.10%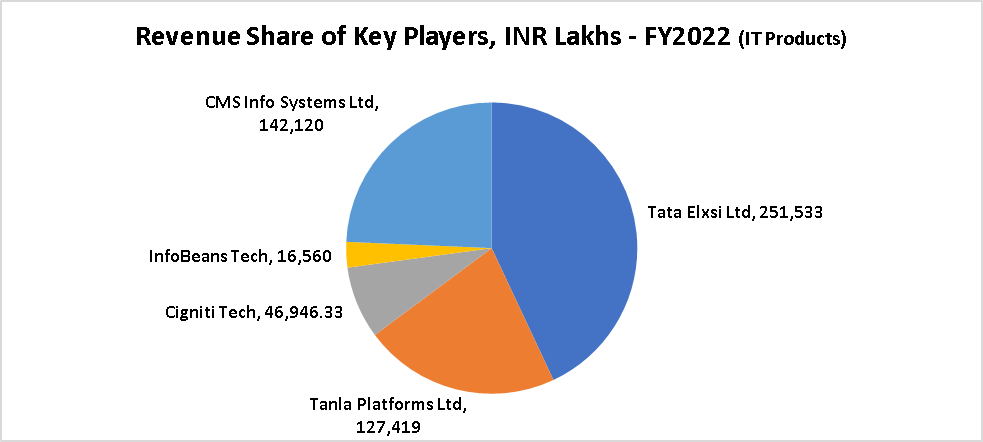 Industry Trends
As the global macroeconomic situation changes dramatically, businesses continue to adopt digital technologies to sustain the market changes. Given the current technological disruptions and their role in both facilitating business processes and shaping newer business modes, the importance of Software and IT industry as a key driver for digital transformation is increasing. Here are such key metrics that indicate the growth prospects of the industry.
Disruptive technologies such as cloud computing, social media and data analytics are offering new avenues of growth across verticals for IT companies.
Large players with a wide range of capabilities are gaining ground as they move from being simple maintenance providers to full-service players, offering infrastructure, system integration and consulting services.
Public cloud adoption in India is driven by rising demand from companies for IT modernization. Infrastructure software is driven by rising demand for security-as-a service offerings, and detection and response capabilities.
SEZs to drive IT sector; tier II cities emerge as new centres. Newer geographies and verticals provide huge opportunities.
Through analyzing the performance of the contributing companies for the last three years, we can ascertain that the IT Products and IT Services sectors witnessed compounded annual growth rate (CAGR) of 15% and 12.1% respectively at the end of 2022. The combined CAGR of the IT sector stood at 13.6% for FY2022. Details are as below.
IT Services segment
IT Product segment
Companies
CAGR
Companies
CAGR
Infosys Ltd
11.44%
Tata Elxsi Ltd
15.02%
Wipro Ltd
5.74%
Tanla Platforms Ltd
20.50%
Tech Mahindra Ltd
8.54%
Cigniti Tech
11.10%
MindTree Ltd
16.28%
InfoBeans Tech
15.00%
Mphasis Ltd
18.57%
CMS Info Systems Ltd
13.40%
Industry CAGR
12.10%
Industry CAGR
15.00%
Combined CAGR 13.6%
The IT Product segment is exhibiting a higher growth compared to the Services segment, this trend is followed by the digital transformation in all the aligned sectors in India.
The market for IT service and IT product services is global, and the service providers need to compete with global companies. There is an accelerated support to the IT segment in other countries across the world.  Such factors need to be considered while forecasting the growth prospects of the sector.
There were a few initiatives taken by the government of India in the early years like setting up of Software Technology parks of India (STP) and Special Economic Zones (SEZs) which helped the sector to grow.  IT cities are facing serious issues with lack of infrastructure in terms of transport and housing, and more.  Such issues were not addressed by governments in time which has been continuously hampering the productivity in the IT sector for long time.  Of late, many of the archaic tax laws complicate the startup funding, service export and thus diminish availability of legal infrastructure for startup.  However, there are a few initiates by government as follows which if effectively implemented would improve the sector.
National Policy on Software Products (NPSP) – 2019 was intended to develop India as the global software product hub. It aims to align with other initiatives such as Start-up India, Make in India and Digital India, Skill India etc., so as to create a robust Indian Software products ecosystem.
ICT Grand Challenge (ICTGC) program to develop innovative software products by conducting four challenges round in the specified area.
SAMRIDH program to support existing and upcoming Accelerators to select and accelerate potential product-based start-ups to scale.
iTamil Nadu Technology (iTNT) Hub in Chennai to support 200 numbers of start-ups / accelerated in technology space preferably in deep tech/emerging tech over a period of five years.
Hence the growth of this sector depends on the government support and the competency matrix of the IT companies.  Thus, by attributing a conservative +5% growth in the sector of the reported CAGR, the industry is expected to exhibit CAGR of 14.28% in the next five years from 2023 to 2027 assuming the government initiates would become favorable in the coming years.
DART Consulting provides business consulting through its network of Independent Consultants.  Our services include preparing business plans, market research, and providing business advisory services. More details at https://www.dartconsulting.co.in/dart-consultants.html