The real estate sector reflects the market pulse of consumer and business sentiments in India.  It is the second largest employment generator, and hence this sector is highly important for the overall economic performance and achievement of social objectives.  For nearly a decade, the Rea Estate sector has been going through a major churn out due to slow down after overheating, problems of quality and fragmentation, and then a regulatory overhaul that witnessed many landmark reforms executed to formalize and professionalize the sector.  The sector encompasses various segments such as Residential, Commercial, Office, Commercial, Retail, Social Infrastructure (Schools, Hospitals), Hospitality, Industrial & Logistics, and Emerging Segments including Data Centers, Co-living, Co-working, and more.  All these segments together make the real estate sector 7% to India's Gross Domestic Product (GDP).  The sector also indirectly contributes to the economy by creating demand for various industries including steel, cement, tiles, furniture, furnishings, electrical equipment and appliances, construction machinery, and more.
Here is a quick overview of key players in the industry.
Godrej Properties
Godrej Properties Ltd (GP) operates as a real estate company.  It constructs and develops residential, commercial, industrial and township properties.  The company's residential properties include The Trees, Godrej 101, Godrej 24, Godrej Central, Godrej Azure and Godrej Aqua.  Its projects comprise of accommodation options includes 1 BHK and 2 BHK homes, villas, storied block apartments with 2-, 3- and 4-bedroom options.  GP's proposed integrated township projects include Godrej Garden City in Ahmadabad which include large residential and commercial spaces, schools, hospital, hotel and also lifestyle amenities.  The company operates in India, Dubai, the US, and Singapore.  GP is headquartered in Mumbai, Maharashtra, India.
DLF Ltd
DLF Ltd (DLF) is a real estate development company.  It conducts the development of residential, commercial, hospitality, and retail properties.  DLF offers duplexes, condominiums, row houses and apartments of various sizes; commercial offices and information technology (IT) parks for the corporate sector; and shopping and entertainment spaces.  The company also carries out leasing of developed offices and retail properties; and manages two hotels including The Lodhi and Hilton Garden Inn.  It has properties in various states in India such as Delhi, Haryana, Telangana, Chandigarh, Tamil Nadu, Gujrat, Maharashtra, and West Bengal.  DLF is headquartered in New Delhi, India.
Oberoi Realty Ltd
Oberoi Realty Ltd (ORL) is a real estate developer.  It conducts the development of premium office, residential, commercial, hospitality, retail, and social infrastructure projects.  It also offers project management services.  Major projects of the company comprise Oberoi Splendor, Prisma by Oberoi Realty, Oberoi Sky Heights, Esquire by Oberoi Realty, Oberoi Seven, Beachwood House, Oberoi Parkview, Eternia & Enigma by Oberoi Realty, Privieria by Oberoi Realty, Oberoi Splendor Grande, and Oberoi Sky Gardens.  It also includes Exquisite by Oberoi Realty, Esquire by Oberoi Realty, Oberoi Springs, Oberoi Crest, Oberoi Woods, Oberoi Gardens and Three Sixty West, Oberoi Chambers, Commerz, and Commerz II, Oberoi Mall, Oberoi International School, and The Westin Mumbai Garden City.  The company executes its business operations in India.  ORL is headquartered in Mumbai, Maharashtra, India.
SOBHA Limited
Sobha Ltd (Sobha) is a real estate development company.  It conducts construction activities for residential and commercial properties, convention centers, hostel facilities, multiplex theaters, food courts, restaurants, educational institutions, research centers, and clubhouses for various corporate clients.  Its residential projects portfolio comprises of residential apartments, row houses, villas, luxury and super luxury apartments.  The company is also involved in the manufacturing and retailing of mattresses under the brand name, SOBHA Restoplus.  It owns and operates manufacturing facilities for interiors, metals and glazing and concrete products.  Sobha is headquartered in Bangalore, Karnataka, India.
L&T Realty Ltd
L&T Realty is the real-estate development arm of Larsen & Toubro.  L&T is a major Indian multinational in technology, engineering, construction, manufacturing, and financial services, with global operations.  Its products and systems are marketed in over thirty countries worldwide.  It has redefined the real-estate Industry in India with its transparency, customer-focused approach and continuous quest for world-class quality.  L&T Realty has an impressive presence across Western India, Southern India and Chandigarh with many residential, commercial and retail projects.  This is reflected in its business parks built to support uninterrupted work 24×7, the under-construction Transit Oriented Development (India's largest), in Navi Mumbai – Seawoods Grand Central, and its much-coveted residential buildings and complexes.
Real Estate Industry Performance
India's real estate sector has been witnessing a healthy growth since 2022, and this momentum is expected to hold for the coming years.  From commercial spaces to the residential market, the overall market outlook is a bright for the real estate industry.  Meanwhile, as work resumes in offices, the recovery in the commercial segment and residential segment is expected to keep rents stable to increase in 2023.  Additionally, the luxury housing market is poised to touch new heights in the coming year.
The performances of key companies in the industry give indications that the industry is overall profit making in spite of multiple setbacks int the recent past.  The reported margin of the industry by analyzing the key players was around 22.5% by taking into consideration the last 3 years' data.  Details are as follows.
| | | |
| --- | --- | --- |
| Companies | Net Margin | EBITDA/Sales |
| Godrej Properties | 22.60% | 31.40% |
| DLF Ltd | 28.70% | 42.70% |
| Oberoi Realty Ltd | 38.00% | 41.90% |
| SOBHA Limited | 4.00% | 7.90% |
| Prestige Estates Projects Ltd | 19.4% | 28.4% |
| Industry Margins | 22.5% | 30.4% |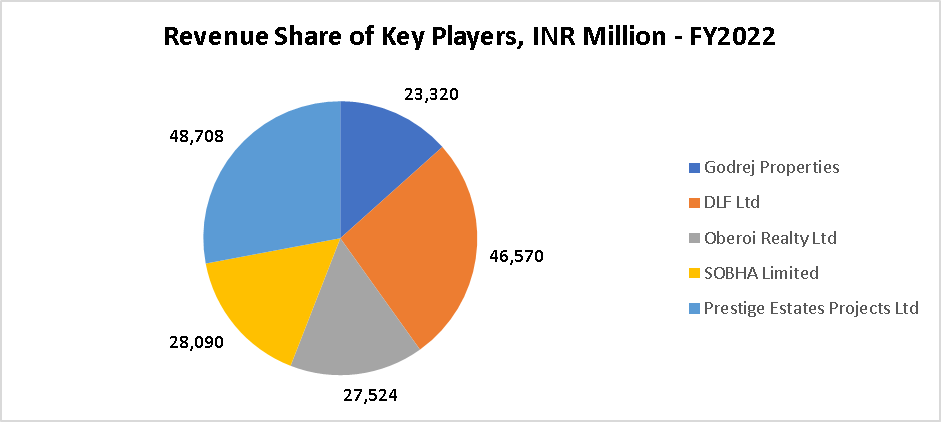 Industry Trends
Despite the recent ups and downs, the Indian real estate market is growing, instilling confidence in the minds of homebuyers and investors alike.  The desire for homeownership has become stronger ever since the pandemic started, and has continued to remain strong.  Here are some of the factors that are likely to drive the market.
Economic growth along with urbanization and favorable government policies are boosting real estate demand
Rising income and employment opportunities have led to more urbanization and more affordability for real estate in cities.
Rising tourist numbers boosting the hospitality sector. The growing inflow from tourists is expected to provide a fillip to the hospitality sector.
Emerging as a promising commercial destination with Chennai-Bengaluru Industrial Corridor – likely to witness strong demand.
Commercial and office space projects are expected to increase in Tier II cities.
Projects like Light Rail Transport System, Monorail, Eco-Park, and Airport expansion are likely to boost travel, which will result in an increase in demand for the hotel industry.
IT parks are attracting global players and increasing traffic. New business units are likely to increase business conferences and events, which in turn will boost the demand for hotels.
The industry is attracting major investments as follows.
FDI in the sector (including construction development & activities) stood at US$55.18 billion from April 2000-September 2022.
Between January-July 2022, private equity investment inflows into the real estate sector in India stood at US$ 3.27 billion.
As per ICRA estimates, Indian firms are expected to raise > Rs.3.5 trillion (US$ 48 billion) through infrastructure and real estate investment trusts in 2022, as compared with raised funds worth US$ 29 billion to date.
Private market investor, Blackstone, which has significantly invested in the Indian real estate sector (worth Rs.3.8 lakh crore (US$ 50 billion) is seeking to invest an additional Rs.1.7 lakh crore (US$ 22 billion) by 2030.
Some of the major initiatives taken by the government to promote the industry in India are as follows:
Government of India along with the governments of respective States has taken several initiatives to encourage development in the sector. The Smart City Project, with a plan to build 100 smart cities, is a prime opportunity for real estate companies.  Below are some of the other major Government initiatives:
In October 2021, the RBI announced to keep benchmark interest rate unchanged at 4%, giving a major boost to the real estate sector in the country. The low home loan interest rates regime is expected to drive the housing demand and increase sales by 35-40% in the festive season in 2021.
The Atmanirbhar Bharat 3.0 package announced by Finance Minister Mrs. Nirmala Sitharaman in November 2020 included income tax relief measures for real estate developers and homebuyers for primary purchase/sale of residential units of value (up to Rs.  2 crore (US$ 271,450.60) from November 12, 2020, to June 30, 2021).
Through analyzing the performance of the contributing companies for the last three years, we can ascertain that the sector witnessed a compound annual growth rate (CAGR) of 13.6% during 2019 – 22.  Details are as below.
| | |
| --- | --- |
| Companies | CAGR |
| Godrej Properties | 27.02% |
| DLF Ltd | 1.10% |
| Oberoi Realty Ltd | 18.80% |
| SOBHA Limited | 4.70% |
| Prestige Estates Projects Ltd | 16.2% |
| Industry CAGR | 13.60% |
The resiliency of the Indian economy in the face of international challenges is largely reflected in the Indian real estate market.  In the upcoming years, it is anticipated that the market for real estate would grow and contribute a larger portion of India's GDP.  Growth levelers are even, and the momentum is likely to gain strength.  The global real estate market is in a depression, and sales are down, but the Indian real estate market is a good example of how to endure volatile circumstances and show signs of consistent growth in the years to come.
The real estate and construction companies have also benefitted from this growth in the industry and are likely to increase their operations in tier II cities in the coming years.  These factors combined would increase the growth in the industry by 10% more than the reported growth, the industry is expected to exhibit CAGR of 15% in the next five years from 2023 to 2027.
DART Consulting provides business consulting through its network of Independent Consultants.  Our services include preparing business plans, market research, and providing business advisory services. More details at https://www.dartconsulting.co.in/dart-consultants.html