The convergence of healthcare and technology, often referred to as "Digital Health," has revolutionized the healthcare sector globally.  In India, this transformation is evident through various applications and innovations that aim to improve healthcare accessibility, affordability, and quality.  Here is a quick explanation of Digital Health.
Components of Digital Health
| | |
| --- | --- |
| Application | Description |
| Telemedicine | Leveraging telecommunications technology to provide remote healthcare services.  Encompasses tele-radiology, tele-consultation, tele-nursing, tele-ICU, and tele-surgery. |
| Point-of-Care Diagnostics | Facilitating accurate diagnostics in resource-limited settings through AI-powered devices.  Simplifies complex procedures for immediate results. |
| m-Health | Utilizing smartphones and mobile internet to deliver digital health services to a broad audience, capitalizing on India's vast smartphone market. |
| Medical Virtual Assistants | AI-powered MVAs assist patients and physicians with tasks like prescription refills, appointment scheduling, and health record management.  Enhance patient engagement. |
| Robot-Assisted Surgery | Enhancing surgical precision and reducing invasiveness through robotics.  Innovations like microbots promise minimally invasive diagnostics and treatments. |
| Self-Monitoring Healthcare | Wearables with monitors and sensors enable users to track physiological parameters, promoting self-monitoring and early symptom detection. |
| Electronic Health Records | EHRs streamline healthcare information management, ensuring secure, centralized access to patient records.  Improves continuity of care and data exchange among providers. |
| Health Service Aggregation | Online platforms aggregate healthcare provider information, aiding patients in finding the right specialists based on reviews and specialties.  Promotes transparency and informed decisions. |
| Big Data in Healthcare | Utilizes big data analytics to extract insights from vast healthcare data generated by digital health services, enhancing patient outcomes and resource management. |
| Blockchain in Healthcare | Transforms health data management, sharing, and privacy using blockchain technology.  Enables value-based healthcare models and applications. |
| Targeted Advertising | Leverages health-related data from wearables for targeted advertising of products and services.  Raises ethical and legal considerations. |
| e-Pharmacies | Online pharmacies offer convenience and accessibility, potentially transforming the pharmaceutical industry.  Regulatory challenges and opportunities exist. |
| e-Learning in Healthcare | Facilitates continuous medical education for healthcare professionals through e-Learning platforms, providing convenience and cost savings. |
Market overview – Healthtech
Digital Health:
The Digital Health market encompasses technologies like mobile health apps, wearables, and telemedicine, empowering users to make informed health decisions.  It supports monitoring, early disease detection, and mental health management.  Divided into Fitness & Well-Being and eHealth segments, it supports fitness tracking, mental wellness, and better access to care.  This evolving market has strong global demand and room for growth.
The total revenue in the Digital Health market is projected to reach US$12.20 billion in 2023.  With an annual growth rate (CAGR 2023-2027) of 20.40%, the market is expected to reach US$25.64 billion by 2027.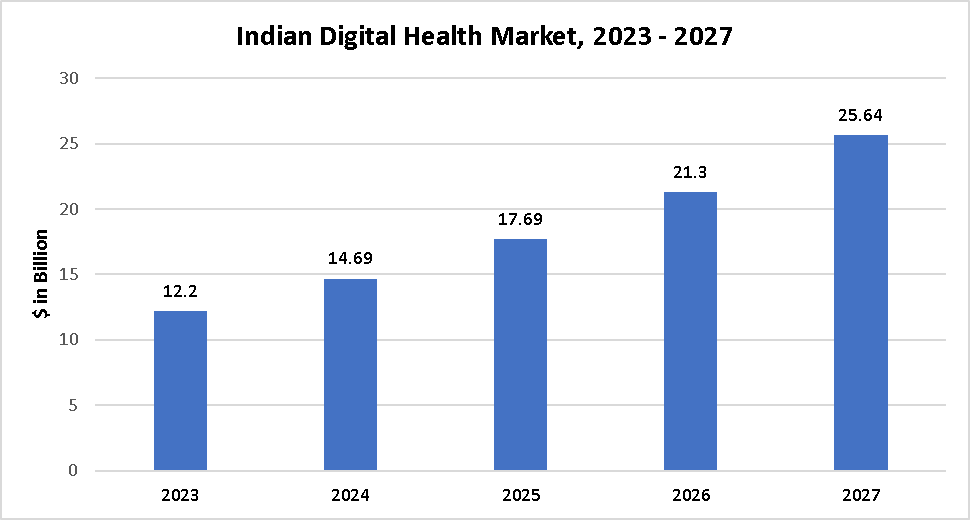 Digital Fitness & Well-Being:
This segment is expected to generate a revenue of US$10.12 billion in 2023, with an annual growth rate (CAGR 2023-2027) of 21.59%, resulting in a projected market volume of US$22.12 billion by 2027.

Digital Fitness & Well-Being Devices: Revenue is projected to be US$4.9 billion in 2023, growing annually at 23.79%.  By 2027, it is expected to reach US$11.5 billion.
Digital Fitness & Well-Being Apps: The revenue is estimated to be US$5.2 billion in 2023, with an annual growth rate (CAGR 2023-2027) of 19.41%.  By 2027, it is projected to be US$10.6 billion.
e-Health:
In the eHealth segment, the projected revenue for 2023 is US$2.08 billion.  It is expected to grow at an annual rate of 14.03%, reaching US$3.5 billion in market volume by 2027.
eHealth Apps: Revenue is forecasted to be US$146 million in 2023, with an annual growth rate (CAGR 2023-2027) of 17.07%. By 2027, it is expected to be US$274.20 million.
eHealth Devices: The revenue projection for 2023 is US$197.00 million, and it is anticipated to grow at an annual rate of 15.38%, reaching US$349.10 million in 2027.
Online Pharmacy: The projected revenue for the Online Pharmacy segment in 2023 is US$1.61 billion.  With an annual growth rate (CAGR 2023-2027) of 12.84%, it is expected to reach US$2.61 billion in market volume by 2027.
Online Doctor: Consultations: Revenue is estimated to be US$133.00 million in 2023.  It is projected to grow at an annual rate of 21.21%, reaching US$287.10 million in market volume by 2027.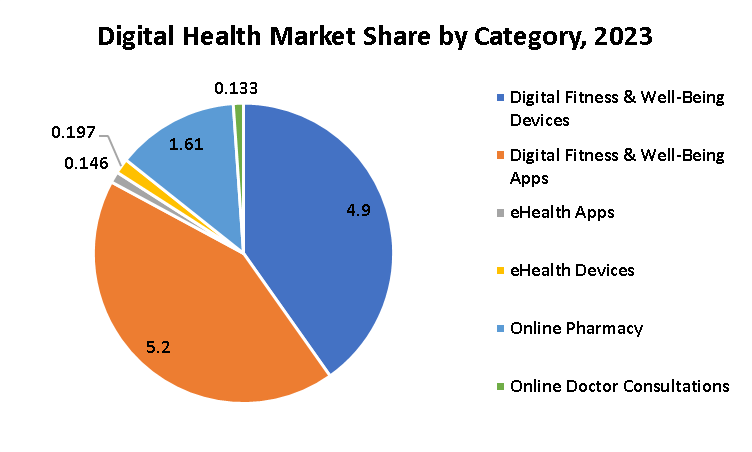 Industry Key players
HealthTech startups are currently emphasizing the use of IoT (Internet of Things) and Artificial Intelligence (AI).  About 37% of HealthTech startups are using IoT technology, and 54% are using AI and Machine Learning to offer their services.  While healthcare is becoming more available, there are still challenges due to the country's large population and strained healthcare system.  Total funding in the healthtech companies in India plunged 55 per cent from USD 3.2 billion in 2021 to USD 1.4 billion in 2022.
Following are some of the noticeable and fast growing HealthTech companies in India with the details of funding, investors, and reported / expected growth.
Company
Description
Funding
Lead Investors
Revenue growth
Netmeds
NetMeds, India's leading healthcare startup, delivers medicines and healthcare products online, with digitized prescriptions and a wide range of offerings, including lab tests.
Total Fund raised – US$99 million

Rounds – 3 rounds

Recent funding – Sep 1, 2018, from a Series C round.

Daun Penh Cambodia Group, Sistema Asia Capital, Tanncam Investment, OrbiMed

40.67% (2020 to 2022)

Practo
Practo is an mhealth platform that connects patients with healthcare providers through booking appointments, check-ups, and consultations.
Total Fund raised – US$228.2 million

Rounds – 7 rounds

Recent funding – Aug 15, 2020, from a Series D round.

AIA Group, Trifecta Capital Advisors, InnoVen Capital, Tencent, Peak XV Partners
 

 

 

188% (2021 to 2022)

HealthifyMe
HealthifyMe is a health and fitness application that allows its users to track food and workouts.
Total Fund raised – US$130.1 million

Rounds – 10 rounds

Recent funding – Jun 7, 2023, from a Series D round.

Khosla Ventures, Leapfrog Ventures, InnoVen Capital, Sistema Asia Capital, Neelesh Bhatnagar, Athera Venture Partners

115.3% (2021 to 2022)

PharmEasy
PharmEasy is a health tech startup offering services such as teleconsultation, medicine deliveries, and diagnostic test sample collection.
Total Fund raised – US$1.4 billion

Rounds – 13 rounds

Recent funding – Nov 7, 2022, from a Debt Financing round.

Trifecta Capital Advisors, evolutionx debt capital, Vestin Wolf Capital Management, InnoVen Capital and more

143.27% (2021 to 2022)

Cult.  fit
Cult.fit is a health and fitness company offering digital and offline experiences across fitness, nutrition, and mental well-being.
Total Fund raised – US$624.6 million

Rounds – 11 rounds

Recent funding – Nov 9, 2021, from a Series F round.

 Zomato, Tata Digital, Temasek Holdings, Accel, Chiratae Ventures, Kalaari Capital, Oaktree Capital Management etc.

34% (2021 to 2022)
Investment in Digital Health in India
The healthcare sector in India is experiencing rapid expansion, making it an attractive destination for Foreign Direct Investment (FDI).  Digital Health tools, such as telemedicine and online pharmacies, are seen as solutions to address the limited access to healthcare facilities in rural and semi-urban areas due to a shortage of doctors.  The growth of the IT sector in India has played a crucial role in the emergence of Digital Health. Below summarized a few regulations related to investments in the HealthTech segment.
Investment Option
Details

Foreign Direct Investment (FDI)

– Regulations Governing FDI: Governed by FEMA, RBI rules, and DPIIT guidelines.  – Consolidated FDI Policy (2020): Generally, allows 100% FDI under the automatic route (no prior approval needed) in most sectors.

– Pharmaceutical and Healthcare Sector: – 100% FDI allowed under the automatic route for Greenfield Investments (new projects).  – For Brownfield investments (existing projects), up to 74% FDI allowed under the automatic route; beyond 74%, prior government approval required.

– E-commerce: 100% FDI permitted; limited to marketplace entities in the B2C model.

Foreign Venture Capital Investment

– Regulation: Entities registered with SEBI as FVCIs.

– Advantages: – Exempt from pricing guidelines under the Consolidated FDI Policy for acquisitions and transfers of securities.  – Promoters are exempt from making an open offer under the Takeover Code when buying back securities from FVCIs.

– SEBI Approvals: SEBI grants approvals to FVCIs for specific sectors, including pharmaceutical R&D and SEBI registered VCFs.

– RBI Amendments: RBI permits FVCIs to invest in SEBI registered AIFs.
Recent Trends and Growth drivers
Indian Healthtech market in 2023 are shaping a dynamic and patient-centric healthcare landscape, blurring the lines between Direct-to-Consumer (D2C) and Business-to-Business (B2B) models.  Here are the key trends:
Holistic Healthcare: Mergers and acquisitions are on the rise as consumers seek comprehensive solutions from "one-stop-shop" healthcare models.
Hospital Integration: Hospitals, with their clinical expertise, are excelling in integrated healthcare solutions.
Service Collaboration: Specialized companies collaborate with integrated players for more comprehensive healthcare offerings.
Value-Based Care: The shift towards proactive, outcome-focused care models emphasizes high-quality healthcare outcomes.
Digital Health Evolution: Digital health firms aim to prevent and predict health issues, actively engaging individuals through technology and data-driven insights.
The growth drivers of the Indian Healthtech industry can be identified from the legal &regulatory framework to international recognition & acceptance.  Some of the noticeable growth drivers are:
Telemedicine has witnessed widespread adoption in India due to its ability to break down geographical barriers, especially amplified during the COVID-19 pandemic. Ensuring patient data protection, informed consent, and robust security practices are critical for its continued success.
m-Health, driven by the growing smartphone user base, holds immense potential. However, it must prioritize data protection, accuracy, and transparency with users, and navigate potential regulatory considerations, particularly related to intermediary status.
E-pharmacies encounter regulatory hurdles due to licensing and prescription compliance issues. Proposed licensing rules aim to legitimize them with conditions.  E-pharmacies must prioritize consumer complaints and contend with opposition from traditional pharmacies, resulting in strikes and legal conflicts.
Medical Virtual Assistants (MVAs) enhance healthcare access through information and guidance. Prioritizing data privacy, securing patient consent, and adhering to Telemedicine Practice Guidelines are essential for regulatory compliance in MVA models.  Qualified healthcare professionals are necessary for final prescriptions and diagnoses.
Regulatory Framework
While India lacks a specific Digital Health law, various existing regulations and guidelines govern aspects of the HealthTech industry.  These regulations need to be harmonized to create a comprehensive legal framework for Digital Health in India.  Stakeholders should actively engage in legal discussions and advocacy to address emerging challenges and opportunities in this sector.
Government Initiatives:
Ayushman Bharat Digital Health Mission: Launched by the Indian government, this mission aims to create a digital health ecosystem, including a unique health ID for every citizen, to improve healthcare accessibility and delivery.
National Digital Health Blueprint: This framework outlines a comprehensive strategy for digital health in India, including standards for EHRs, telemedicine, and health data exchange.
Conclusion
The Indian Healthtech market presents a lot of opportunities, but with every opportunity, there are bound to be risks involved.  Innovation in this sector is yet to reach a saturation point, with new products frequently being introduced on the market.  The legislative framework to protect and regulate such developments will remain one step behind, as it is yet to be seen how the industry will mature.  Regardless, regulators have to anticipate and ensure that in the absence of specific laws, existing laws can be harnessed to adequately regulate emerging technologies.
While the country projects the growth of HealthTech market to grow at 20.4% by 2027, with the activities of new emerging startups and innovation will ignite the fundings both from private investors as well as the government.  Assuming there would be 5% more than the reported growth, the industry is expected to exhibit CAGR of 25% in the next five years from 2023 to 2027.
DART Consulting provides business consulting through its network of Independent Consultants.  Our services include preparing business plans, market research, and providing business advisory services. More details at https://www.dartconsulting.co.in/dart-consultants.html