The chemical industry in India stands as a one of the pillars of the nation's economy.  It contributes 7% to the Gross Domestic Product (GDP). This sector has demonstrated remarkable resilience and emerges as one of the few industries that not only withstood the challenges posed by the global pandemic but also experienced substantial growth. Ranked as the 6th largest chemical producer worldwide and the 3rd largest in Asia, India's chemical industry is primed to harness upcoming opportunities and solidify its global presence.
Here is a quick overview of key players in the industry.
Solar Industries India Limited
Solar Industries India Ltd (SIIL) is a leading explosive manufacturer and provider of explosive-related solutions with a global footprint. Established in 1995, the company has rapidly grown to become a prominent player in the explosives and explosive-based systems industry. Headquartered in Nagpur, India, SIIL has expanded its operations across various countries, offering a wide range of products and services that cater to diverse industries.
Pidilite Industries
Pidilite Industries Ltd is a renowned Indian conglomerate that operates across various sectors, primarily in the chemicals and consumer products industry. Established in 1959, the company has grown to become a market leader in adhesives, sealants, construction chemicals, and art and craft materials. Pidilite's commitment to innovation, quality, and customer-centricity has propelled it to national and international prominence.
Gujarat Alkalies and Chemicals Limited
Gujarat Alkalies and Chemicals Limited (GACL) is a leading chemical company based in Gujarat, India. Established in 1973, GACL has grown to become a significant player in the chemical industry, focusing on the manufacturing and distribution of various chemicals and industrial products. With a commitment to quality, sustainability, and innovation, GACL has established itself as a key contributor to India's chemical landscape.
BASF India Ltd
BASF India Ltd is a subsidiary of BASF SE, a global chemical company headquartered in Ludwigshafen, Germany. With a history spanning over a century, BASF is one of the world's largest chemical manufacturers, serving a wide range of industries. BASF India, established in 1943, is a key player in India's chemical landscape, offering innovative solutions that contribute to various sectors' growth and sustainability.
Atul Ltd
Atul Ltd is a prominent Indian chemical company with a rich history and a diverse range of products. Established in 1947, Atul Ltd has evolved into a leading player in the chemicals, agrochemicals, and life sciences industries. The company's commitment to innovation, quality, and sustainability has contributed to its enduring success in the global market.
Industry Performance
India's chemical industry is incredibly diverse, covering over 80,000 commercial products and encompassing bulk chemicals, specialty chemicals, agrochemicals, petrochemicals, polymers, and fertilizers. As the sixth largest chemical producer globally and third in Asia, it contributes 7% to India's GDP.
On the global stage, India is a major player, ranking fourth in agrochemical production, accounting for a significant share of dyestuff and dye intermediate output, and boasting a 15% global market share in colorants. The country's chemical industry is de-licensed, with a few hazardous chemicals being exceptions. India's position in chemical exports and imports is strong, standing 14th in exports and eighth in imports worldwide (excluding pharmaceuticals). India's strategic proximity to the Middle East, a key source of petrochemical feedstock, positions it advantageously for economies of scale, further boosting its chemical industry's potential.
The performances of key companies in the industry give indications that the industry is profitable and has greater growth opportunities. The reported margin of the industry by analyzing the key players was around 11.3% by taking into consideration the last 3 years' data. Details are as follows.
| | | |
| --- | --- | --- |
| Companies | Net Margin | EBITDA/Sales |
| Solar Industries India Limited | 10.2% | 15.7% |
| Pidilite Industries | 14.8% | 21.0% |
| Gujarat Alkalies and Chemicals Limited | 14.8% | 27.0% |
| BASF India Ltd. | 4.5% | 7.0% |
| Atul Ltd | 12.0% | 18.7% |
| Industry Margins | 11.3% | 17.9% |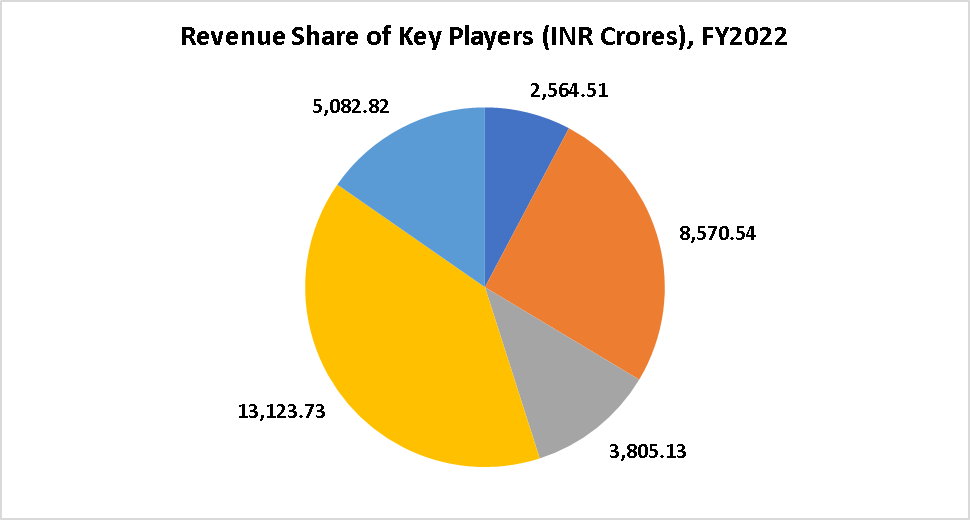 Industry Trends
The Indian Chemicals and Petrochemicals sector has displayed remarkable growth and significance in the global trade landscape, securing its position as a pivotal contributor to India's inclusive trade flow. With consistent rankings as the third-largest chemical importer and the fourth-largest exporter over the past five years, this sector's influence remains undeniable. Several industry trends have emerged, highlighting the sector's potential for sustained development and prosperity.
The sector is poised for a transformative journey driven by global export growth, government initiatives, favorable manufacturing conditions, rising domestic demand, and the industry's resilience in overcoming challenges. Here are some of the growth divers that is propelling the industry are:
Liberalized Industry Environment: The industry operates in a deregulated and de-licensed framework. 100 percent Foreign Direct Investment (FDI) is permitted through the automatic route. Manufacturing of various chemical products, including organic, inorganic, dyestuffs, and pesticides, is free from licensing constraints.
Expanding Infrastructure: Dedicated industrial zones in Tamil Nadu, Gujarat, Andhra Pradesh, and Odisha span 250 sq. km., providing manufacturing facilities and comprehensive logistical support. Establishment of plastic parks to optimize capacities and enhance operational efficiencies.
Enhanced Raw Material Accessibility: Investments are being directed towards increasing domestic raw material production to lessen reliance on imports.
Strategic Location and Trade Agreements: India's central position in trans-Indian Ocean routes links Europe with East Asian nations. Proximity to the Middle East grants access to cost-effective petrochemical feedstock. India boasts 13 executed Free Trade Agreements (FTAs) and 16 under negotiation, surpassing other countries in the Southeast Asian region.
The industry is attracting major investments as follows.
Integrated Manufacturing Hubs Attracting Investments: The PCPIR policy aims to draw Rs. 20 lakh crore (US$ 276.46 billion) in investments by 2035 through dedicated manufacturing zones.
Global Players and Favorable Regulations Boosting Market: Leading global players like BASF, Dow Chemicals, and Bayer, along with 100% FDI and stringent anti-dumping laws, will drive the Indian chemical market.
Fertilizer Self-Sufficiency Target Achieved: By 2023, India will achieve fertilizer self-reliance by establishing new units with a Rs. 400 billion investments, reducing import dependency.
Some of the major initiatives taken by the government to promote the industry in India are as follows:
As per the Union Budget 2022-23:
The government is enforcing BIS-like certification for imported chemicals to prevent the influx of substandard products.
The government aims to increase the chemical sector's share in the manufacturing GDP to around 25% by 2025.
Rs. 209 crores (US$ 27.43 million) have been allocated in the Union Budget 2022-23 to the Department of Chemicals and Petrochemicals.
The introduction of Production Linked Incentive (PLI) schemes, including Rs. 1,629 crores (US$ 213.81 million) for Bulk Drug Parks, aims to invigorate the sector.
Through analyzing the performance of the contributing companies for the last three years, we can ascertain that the sector witnessed a compounded annual growth rate (CAGR) of 13.1% at the end of 2022. Details are as below.
| | |
| --- | --- |
| Companies | CAGR |
| Solar Industries India Limited | 15.15% |
| Pidilite Industries | 9.6% |
| Gujarat Alkalies and Chemicals Limited | 10.0% |
| BASF India Ltd. | 18.8% |
| Atul Ltd | 11.9% |
| Industry CAGR | 13.1% |
The Indian Chemicals and Petrochemicals sector is on the cusp of a transformative phase, guided by strategic government initiatives and evolving market dynamics. The industry's trajectory is underscored by stringent quality control measures, bold growth targets, and financial backing through PLI schemes and budgetary allocations. A visionary roadmap towards self-sufficiency and global leadership is evident through end-to-end ecosystem development and targeted incentives. This sector's ascent not only promises economic vitality but positions India as a formidable contender in the global chemicals domain, promising innovation, and growth in the years ahead.
Given these facts, the industry is likely to grow at the current growth rate and is expected to exhibit a CAGR of 13% in the next five years from 2023 to 2027.
DART Consulting provides business consulting through its network of Independent Consultants.  Our services include preparing business plans, market research, and providing business advisory services. More details at https://www.dartconsulting.co.in/dart-consultants.html