It is a fact that the human beings have drastic influence over the sustainability on earth's natural processes.  Another set of key influencers of these global changes are Corporates & Industries.  This has compelled to set up a non-binding United Nations pact named UN Global Compact to encourage businesses firms around the globe to adopt a set of effective sustainable and socially responsible policies in conducting their business.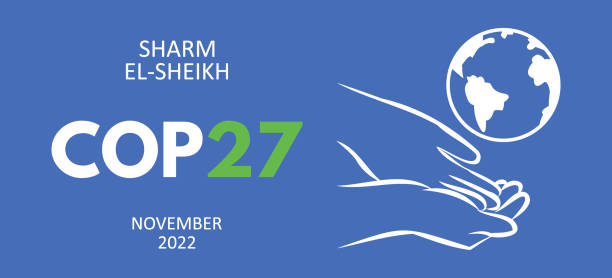 The UN Global Compact revolves around the corporate sustainability which starts with the company's value system and a principles-based approach to doing business.  The fundamental responsibilities are constituted by ten Principles of the United Nations Global Compact in the areas of human rights, labour, environment, and anti-corruption.
It's an opportunity for businesses of all sizes to participate and the effecting change begins with organization's leadership.  To participate in the UN Global Compact, a commitment from the CEO or equivalent – with support from the Board.  This commits the participating organization to meet fundamental responsibilities in four areas: human rights, labour, environment, and anti-corruption.  Accountability also matters; hence all participants have to produce an annual Communication on Progress that outlines the organization's efforts to operate responsibly and support society.  This could be part of a sustainability or annual report, or another public document.  Around 81% of the companies' attribute progress on their sustainability work to participating in the Global Compact.
Reasons for Companies to Join Global Compact
Corporate and organizational success requires stable economies and healthy, skilled, and educated workers, among other factors.  A well-functioning and sustainable company tends to increase its brand trust and investor support.
It's good for society, offering fresh ideas and scalable solutions to society's challenges.  More than 16,000 business participants and 3,800 non-business participants in the UN Global Compact.  They're helping alleviate extreme poverty, address labour issues, reduce environmental risks around the globe, and more.  Around 93% of the CEOs who have joined UN global compact agrees that sustainability is important to the future success of their business, 80% of them agrees that sustainability is a route to competitive advantage in their industry and 78% agrees that sustainability is an opportunity for growth and innovation.
The UN Global Compact addresses core issues that concern organizations and their leaders.  CEOs are navigating increased frequency of natural disasters around the world, which is creating an urgent need to adapt and build resilience—particularly across supply chains.  Constant pressure from investors and capital markets is incentivizing more rapid climate action—all amid a global pandemic.  Some companies have formed partnerships with competitors and are addressing biodiversity risks, while hundreds have set science-based targets in line with the Paris Agreement, but thousands more need to increase their ambition to ensure a viable future.  CEOs agree that technology is enabling new business models and will unlock the future of industry decarbonization.  But to fulfil technology's promise, CEOs will need effective data management across the value chain and must overcome affordability and knowledge constraints.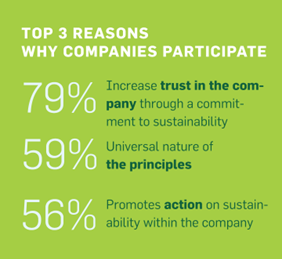 Benefits of Joining Global Compact
Unprecedented networking access with UN Global Compact participants – representing nearly every industry sector and size, in over 160 countries
Access to partnerships with a range of stakeholders – to share best practices and emerging solutions
Best practice guidance – built on more than 20 years of successes
Tools, resources, and trainings
Local Network support in more than 60 countries
The moral authority, knowledge, and experience of the United Nations
The UN will guide its participants in every step of the way.  It will help the participants in committing to, assess, define, implement, measure, and communicate their sustainability strategy.  With the UN's help, participants can make a difference across four core areas: human rights, labour, the environment, and anti-corruption.
The UN Global Compact will be hosting multiple events and thematic sessions at the UN Climate Change Conference (COP 27) in Sharm El-Sheikh from 9–18 November 2022.  The event will showcase the changes the UN Global Compact and Global Compact Local Networks that are driving by mobilizing business to assess environmental risks and opportunities, set and deliver ambitious climate targets and adopt responsible practices for a transition to the net-zero, resilient economy.
One can join UN Global compact as Business and Non-Business at https://www.unglobalcompact.org/participation/join/application
DART Consulting provides business consulting through its network of Independent Consultants.  Our services include preparing business plans, market research, and providing business advisory services.
More details at https://www.dartconsulting.co.in/dart-consultants.html