After demonetization, the Indian government is pushing for digital and Unified Payments Interface (UPI) payments to achieve the much-needed digitization in financial transactions and accountability.  The transaction through UPI generates payment track and it helps tax authorities to track transactions for all monitoring purposes including taxation.  This is much needed to reduce the influence of cash in the economic system which helps economic planners to take the right decision.
UPI is a mobile app-based payment system that brings multiple bank accounts to one platform. UPI combines various banking services, smooth fund routing, plus merchant payments into a single mobile application for participating banks. As of Mar 2022, there are 314 participating financial institutions or Fintech in the UPI. There are multiple payment apps emerged after that and PhonePe, Paytm, MobiKwik, and Google Pay are a few such apps active in this segment other than in the banking sector. Here is the list of the Top 5 UPI Apps in India in March 2022 and their performance.
| | | |
| --- | --- | --- |
| UPI Application Name | Volume (Lakhs) | Value (Lakhs) |
| Phonepe |          25,272 |          47,14,013 |
| Google Pay |          18,381 |          33,88,733 |
| Paytm |            7,296 |            8,38,404 |
| ICICI Bank Apps |                315 |            1,03,041 |
| BHIM |                249 |                80,502 |
| Cred |                121 |            1,61,361 |
As of now, digital payment companies like PhonePe Paytm and Google pay have emerged top of the market. The reason could be multiple.  The features provided in the app in addition to the extent of promotion and brand name could have helped it. Even Google with its much higher user database and other complementary apps in its possession could not beat the application developed by Phonepe.  Paytm, the darling during demonetization, could not secure the required brand name to meet the consumer sentiment.
According to the National Payments Corporation of India (NPCI), the volume for UPI- Phonepe reached 25,272 lakhs and Google pay reached 18,381 lakhs in the year 2022. In terms of value, PhonePe led the UPI numbers with INR 4,71,40,126 lakhs. Google Pay maintained INR 3,38,87,325 lakhs in the year 2022. The apps respectively recorded their highest ever transaction values in December 2021. The details are as follows.
| | | | |
| --- | --- | --- | --- |
|   | 2021 | 2022 | Y-o-Y growth % |
| Phonepe | 11,995 | 25,272 | 111% |
| Google pay | 9,570 | 18,381 | 92% |
Phonepe is gaining traction and is quickly becoming one of the most popular digital payment methods in India, according to market intelligence. The wider usage of UPI will augment digitization efforts.  PhonePe is ranked first among the best UPI apps in India. PhonePe not only facilitates UPI payments, but users can also recharge, make online bill payments, order food, shop, and so on from a single app. Phonepe had 25,272 lakhs transactions in volume and INR 4,71,40,126 lakhs in transaction value as of March 2022. PhonePe also offers its customers a variety of offers, rewards, and cashback.  The total addressable market and market leaders are listed per order in the following graph.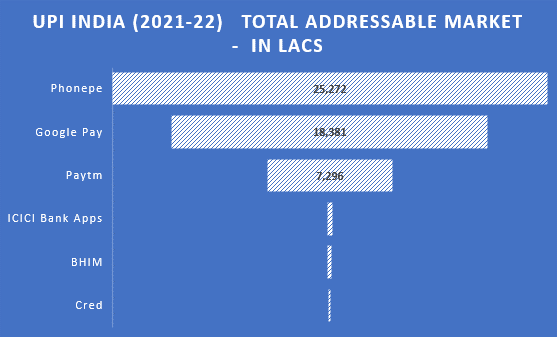 DART Consulting provides business consulting through its network of Independent Consultants.  Our services include preparing business plans, market research, and providing business advisory services.  More details at https://www.dartconsulting.co.in/dart-consultants.html