Digital payment or electronic payment is a transfer of funds from one account to another through a digital device.  No physical exchange of money is involved in digital payment.  Digital payment is completed with the help of a mobile phone, POS (Point of Sale), or computer, and a digital channel of communication.  In digital payment, both parties use electronic mediums to exchange money.  Payments made via bank transfers, mobile money, and payment cards, including credit, debit, and prepaid cards, are all included in this definition. The Reserve Bank of India (RBI) has classified the following payments as digital payments in its report.
Aadhaar Enabled Payment System (AePS)
Aadhaar Payment Bridge System (APBS)
Electronic Clearing Service (ECS)
Immediate Payment Service (IMPS)
National Automated Clearing House (NACH)
National Electronic Funds Transfer (NEFT)
Unified Payments Interface (UPI)
Bharat Interface for Money (BHIM)
Credit Cards
Debit Cards
There are multiple benefits on account of Digital Payments per the business and competitive market analysis.  Digital payments bring a lot of efficiency into the payment system.  It has speed and at the same timeless expensive and generates a trail to follow each payment.  Such track will be of great value to all,  and every transaction is traceable.  Thus, it brings transparency and security.  The improved traceability and accountability would result in reduced corruption and theft in financial transactions.
In India, the introduction of direct benefit transfer for validating the identity of the beneficiary through Aadhaar facilitated delivery of social welfare benefits by direct credit to the bank accounts of beneficiaries.  The government has already started routing the subsidy for cooking gas and social benefits through the banking network using the Aadhaar-based platform as a unique financial address for beneficiaries.  According to a few studies, digital payment helps to open economic opportunities for the financially disadvantaged while also allowing for a more efficient movement of resources across the economy.
According to the RBI report, the volume for the Indian digital payments market reached 4,37,118 lakhs in the year 2020 – 21.  In terms of value, it reached INR 14,14,85,173 crores by 2020 – 21, from the INR 2,85,61,200 crores of 2017 – 28, huge jump of 495% growth.  The details are as follows:
| | | |
| --- | --- | --- |
| Year | Transactions Volume (in Lakhs) | Growth % |
| 2017-18 | 1,57,606 |   |
| 2018-19 | 2,32,602 | 48% |
| 2019-20 | 3,41,240 | 47% |
| 2020-21 | 4,37,118 | 28% |
Thus, there is a significant growth in digital payment in India over the years.  The usage of digital payment apps has increased significantly, particularly since the pandemic.  it drove people to stay indoors, and order food and other products via online platforms.  Many online businesses and aggregator platforms had restricted cash payments to avoid contact with delivery workers. Thus, digital payment has increased in volume despite a drop in GDP in the midst of pandemic woes. Even if we consider a conservative growth of 35% (assuming the volume will further increase with the improvement in economic activities), we can expect that the digital payment volume would reach 19,60,052 Lakhs by 2026.   The details are depicted below.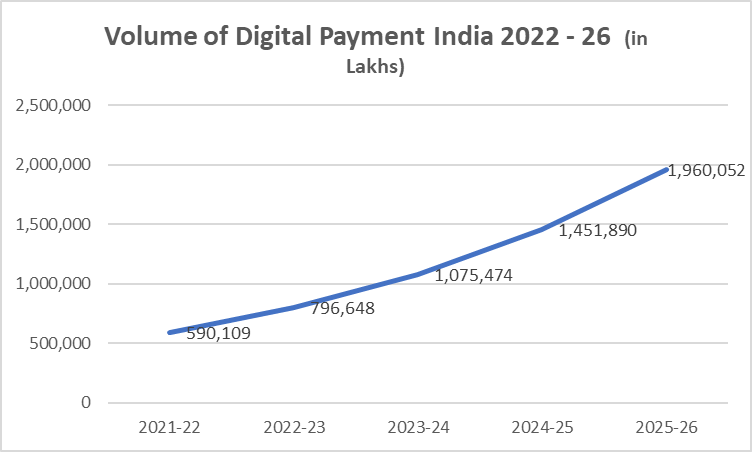 DART Consulting provides business consulting through its network of Independent Consultants.  Our services include preparing business plans, market research, and providing business advisory services.  More details at https://www.dartconsulting.co.in/dart-consultants.html