Spanish flu or 'influenza pandemic of 1918' has been considered a similar pandemic as we experienced in Covid – 19 in the recent past, per reports.  Spanish flu was reportedly caused by the H1N1 virus, which has a gene of avian origin.  The flu or its virus was circulating around the world between 1918 and 1919, according to media reports.  It was identified in the United States, in the spring of 1918, among the soldiers in the beginning.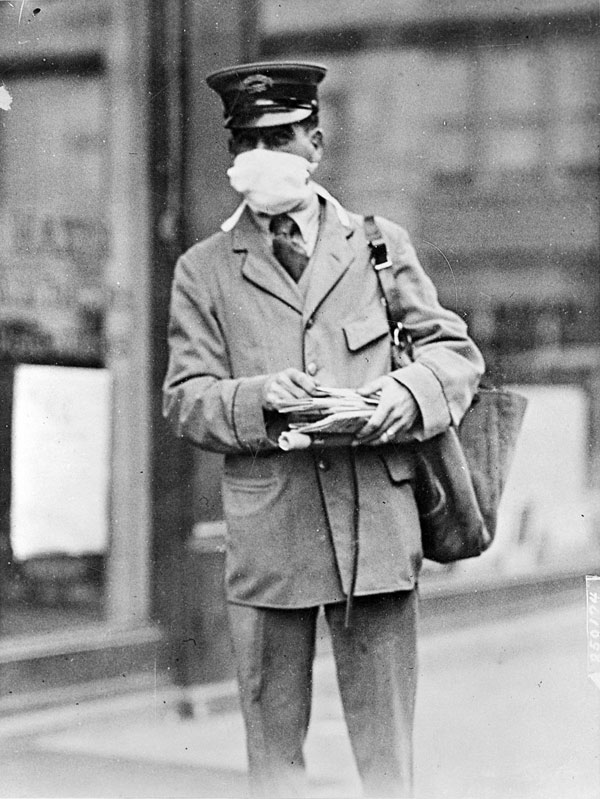 Letter carrier in New York wearing mask for protection against influenza. New York City, October 16, 1918.
Courtesy:   National Archives- https://www.archives.gov/ – Letter carrier in New York wearing mask for protection against influenza. New York City, October 16, 1918 
COVID-19 which was initially reported at Wuhan in China was caused by a virus, now called severe acute respiratory syndrome coronavirus 2, SARS-CoV-2. As of now, Covid -19 reported with a total infection is nearing 500 million globally with a reported death rate of 1.25%. Spanish flu also reportedly infected 500 million but with a higher death rate of 10%. Obviously, the advancement in medicine would have influenced the lesser death rate in Covid -19.
There are a lot of similarities between Spanish flu and Covid -19, and both occurrences had influenced society's behavior at those times.  A few such commonalities are listed below.
Wearing mask
Social distancing – forced to keep people at a distance
Schools closure – incidentally online schooling was not reported
Cancellation of many public events for two years.
Both are contagious respiratory illnesses
Both could affect humans' lungs and breathing.
Both diseases can be spread through droplets in the air from an infected person coughing, sneezing, or talking.
Both diseases can be spread by an infected person or several days before their symptoms appear.
As an immediate respite in both incidents, the health authorities had advised physical distancing and wearing face-covering or masks to limit the spread in communities.  Another interesting similarity is that in both cases the restrictions were hotly debated.
Anti-Mask League of San Francisco (1918)  was at the forefront to protest an ordinance that required people in San Francisco to wear masks.  According to estimate, around 4,000–5,000 citizens showed up to a meeting to protest the second ordinance in January 1919.  This movement had gained backing from several thousand who opposed wearing a mask.  However, during the Covid- 19, (April 17, 2020) San Francisco Mayor ordered the use of masks in public as a measure to prevent the spread of COVID-19.
However, in the US, there were multiple forums that opposed mask-wearing in Covid -19 as well.  Notable such objections came even from the then President of the United States.  One such statement is as follows.
"I don't wear masks like him.  Every time you see him, he's got a mask.  He could be speaking 200 feet away from it, and he shows up with the biggest mask I've seen.".  In April 2021, Trump nearly repealed the Centres for Disease Control and Prevention's recommendation to wear a mask in public, making it a choice, not a duty, for citizens.  In the US, (Sep 2020), Hundreds of anti-mask protestors gathered in states like Utah, Florida, and California, claiming that making wearing a mask mandatory is merely a tool to spread fear.
In Spain (Aug 2020) protesters gathered in the capital city to voice their opposition to the mandatory use of face masks and other measures imposed to contain the spread of coronavirus.  In the UK (Sep 2020), thousands of demonstrators gathered at Trafalgar Square in London to protest the Covid safety measures imposed by the UK government.  The protestors without wearing masks were carrying signs with slogans that read: "masks are muzzles" and "Covid is a hoax", as per reports.  In Germany, (March 20, 2021) despite a court order, anti-lockdown protestors marched through downtown Kassel, and the majority did not follow infection-control precautions such as put on face masks.  Even, some protestors attacked officers and some journalists. India (October 2020) also witnessed a lesser-scale protest when a group organized a protest in Mumbai, mostly by a few professionals.
Despite learning from the history of pandemic and their mode of control, still there are section in the public who finds justification in not wearing a mask. Now, the question here is which is more important-  imposing restrictions and protecting human lives or allowing personal freedom as sought by a group of people.
DART Consulting provides business consulting through its network of Independent Consultants.  Our services include preparing business plans, market research, and providing business advisory services.  More details at https://www.dartconsulting.co.in/dart-consultants.html