Global warming is being a serious threat to the international community which is affecting the world environment. In this challenge, the Government of India has determined to have 40% of power generating from renewables by 2030. The rising environmental issue is making the market more favorable for rooftop solar in India.
The Government is trying to develop at least one city of each state as a solar city. To generate solar power by installing solar panels on the roof of the houses, the Ministry of New and Renewable Energy, the Government of India is implementing a Grid-connected Rooftop Solar Scheme (Phase-II). Under this scheme, Ministry is providing 40% subsidy for the first 3 kW and 20% subsidy beyond 3 kW and up to 10 kW. The scheme is being implemented in the states by local Electricity Distribution Companies (DISCOMs). The procedure is to select an integrator for installing solar on rooftops over houses. Solar Panels can be installed on Renewable Energy Service Company (RESCO) mode or CAPEX model. The central government will provide subsidies for the consumers who are availing it. The additional investment required for installation over and above the subsidy will be made by the RESCO Operator and he will recover it through tariff, which can also be collected by the State electricity board through its monthly bill and paid to the RESCO Operator.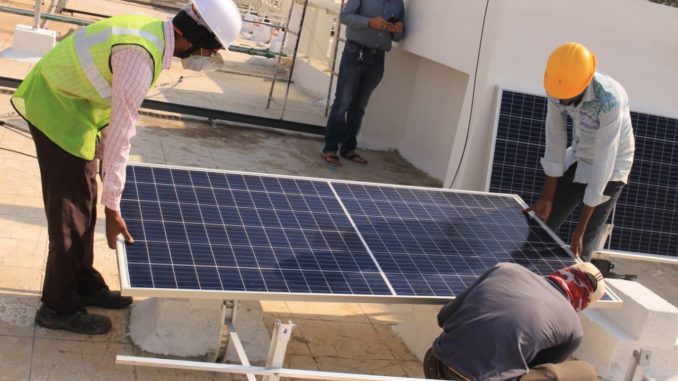 The Ministry of New and Renewable Energy (MNRE) is planning to introduce a number of schemes so that power costs of a city shall come down drastically, net emission will come down to zero, and carbon footprints to decline to the lowest level.
India is finally catching up to rooftop solar (RTS) as a reliable source of power for industries, offices, and houses across the country. The current solar capacity stands at 1,922 megawatts (MW) and so far over Rs, 1,874 crores have been released as central financial assistance towards the installation of capacities in the sector (2020), of which 346 MW have been installed in the residential sector.  The robust growth of the Indian solar rooftop market is expanding at a compound annual growth rate (CAGR) of 116% during the (2019-2024) period.
Two factors are driving solar power in India.
The cost of solar power has been falling steeply over the last couple of years to around less than ₹2.40 a unit, thus consistently inching close to thermal power (produced from coal and gas) against ₹17 a unit nearly a decade ago. A recent study has predicted the cost of generation of solar power could fall to as low as ₹1.9 a unit over the next decade.
Consumer behavior is changing, that is increasingly moving towards cleaner sources of energy. New and younger consumers in India today expect utilities and other similar service providers to raise the standards not just in terms of price competitiveness but also their sustainability from an ecology point of view.
A residential rooftop solar can save up to ₹50,000 per kW a year or around ₹12.5 lakh with a 25-year lifetime of installation. Rooftop solar consumers in India were in all four major segments — commercial, industrial, residential, and public sector buildings.
Social media platforms have played a major role in influencing consumer behavior and addressed the advantages effectively.  There is a need for a concerted effort from all sectors to reduce carbon footprint and improve the usage of alternate energy.
DART Consulting provides business consulting through its network of Independent Consultants.  Our services include preparing business plans, market research, and providing business advisory services through the network of Independent Consultants.  More details at https://www.dartconsulting.co.in/dart-consultants.html