"National Monetisation Pipeline" (MNP) project is a new term coined recently.  For general public, it is a new term much after the word "Demonetization" which had generated much flutter in the society those time. Let's hope that the word "Monetisation" as the name sounds does not freeze currency or asset but let will release the potential of idle resources.
The "National Monetisation Pipeline" is supposed to bring 6 trillion INR to economy.  The government's goal is to unlock value in brownfield projects by involving the private sector, transferring revenue rights rather than ownership in the assets, and utilizing the money produced to build new infrastructure throughout the nation.
Another interesting word coined is Brownfield projects. The word brownfield project is generally denoted for those projects that have constraints related to the current state of the site.  Greenfield and Brownfield investments are two different types of Foreign Direct Investment.  In a greenfield investment, parent company opens a subsidiary in another country and begins a new venture. Brownfield investments happen when an entity purchases or leases an existing facility to begin new production.
In nutshell, the government has selected 13 sectors or brownfield project for privatization including airports, railroads, motorways, ships, and gas pipelines, among others.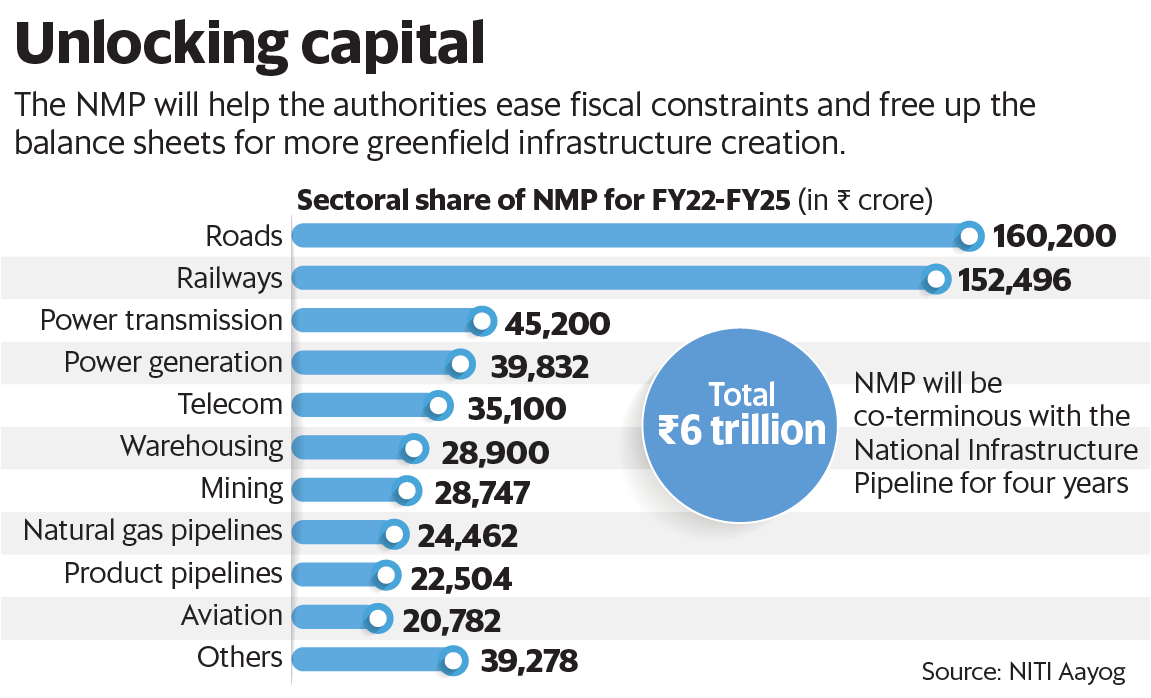 What is unique about all such sectors? The above sectors used to be under fully or partial control of the government. Now, the government seeks to unlock value in such projects by involving the private sector.  The private sector is expected deriver revenue without ownership of the assets.  The amount so derived will be utilized to build new infrastructure throughout the nation.  It is strictly not selling assets but leasing it for a limited time.  The government will retain primary ownership of support under the NMP.
This is expected to bring foreign currency and so far, Global companies such as Blackstone, Blackrock, and Macquarie have shown interest in participating in the monetization process.  Canada Pension Plan Investment Board, Brookfield Asset Management Inc., Australia's Macquarie Group Ltd., Singaporean sovereign wealth fund GIC Pte., and local financial institutions are all expected to compete for public assets on sale.
At the end, the disinvestment and privatization are not new to the country.  It has been going on since the liberal policies adopted in 1991.  The effective deployment of such fund in developing further infrastructure will narrate its benefits of the same later.  As of now, the country is badly in need of investment in its infrastructure including, road, railways, housing, health services and more.  The government needs work with private industry to and find methods to reduce the cost of production of goods and services to remain competitive in the global market.  The better use of the fund will bring ray of hope to millions in the country in the coming years.  If at any point the fund is not effective deployed it will come as a serious blow to country and determine the standards of living of its citizens in the coming decades.
DART Consulting provides business consulting through its network of Independent Consultants.  Our services include preparing business plans, market research, and providing business advisory services.  More details at https://www.dartconsulting.co.in/dart-consultants.html