Ferrero India has made rapid in roads in the Indian chocolate market with premium range of products.  The products launched by this confectionery giant include Kinder Joy, Tic Tac, Ferro Rocher, Nutella and Kinder Scho- Bons Crispy.
The corporate milestone is illustrated below-

Ferrero Kinder joy chocolate is one the most popular brand in the character confectionery segment aiming to boost sales in the Indian market.  The USP of the product is combination combining chocolate, a surprise, and a toy.  The company in India has catered towards the premium segment without sacrificing on quality and innovation.
Promotional Activities of Kinder Joy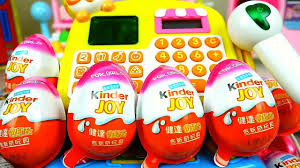 Kinder Joys are egg shaped; the box has an egg tray inside for holding the chocolates steady.  This differentiates the product from other chocolates which are a typical rectangular slab.  To make the product more appealing to its target audience, it uses customization in packaging.  For boys, the packaging has hint of blue color with transfers in photo and for
girls it is in pink color with photo of Barbie.  The brand has adopted 5R packaging strategy.  The 5R's are removal, reduction, recyclability, reuse and renewal.
 With its objective expand its market presence in India Kinder joy had launched a marketing campaign ''SMS for Joy" that gives away prizes to customers who buy promotional packs.
Kinder Joy application uses branded game as a part of promotional campaign to
To increase number of sales in the Indian market
To increase number of brand engagements
To promote the toys inside Kinder Joy.
Now days, Kinder surprise toys can be collected digitally-
Scan the QR code found in the egg and you get to unblock the same surprise or a random one
Through the 'surprise of the day', a random Kinder Surprise toy is unlocked.
The magic kinder educational gaming app on the play store(Google) and App store(Apple) launched by the company is designed to help families play and learn together through engaging games, activities, videos and stories in a safe environment.
Since its inception in India in 2004, Kinder Joy had launched several marketing campaigns to promote its brand and toys inside Kinder Joy.  A few of the notable marketing campaigns are listed below;
The company in 2013 held a promotional event in Mumbai's RCity mall and kids actively participated in the fun activities organized. They also launched range of iconic surprise toys- Hot wheels after licensing agreement with American MNC Mattel
In the year 2015, Kinder Joy set up a partnership with Disney India to introduce new characters like the Disney Princess and Marvel's The Avengers. The limited-edition partnership will give kids to collect favourite Disney and Marvel Characters.
In the 2016, it launched innovative platform for storytelling 'The Kinder Joy story station' to increase brand engagement and had received more than 2.2 million calls in three months. Kinder Joy's marketing campaign has successfully captured a wider market in the chocolate confectionery segment, also its marketing concept have won seven awards nationally and internationally across various categories.  The parent company is promoting the kinder brand in social media channel Facebook and YouTube It has around 11,822,480 followers in its Facebook page and close to 27, 444 subscribers in its YouTube page.  They post and run regular marketing campaigns like 'Back to School Theme' and others.
In 2017, they launched a new brand campaign with 30 second edit on its digital platform followed by the launch in TV focusing on loving and affectionate moments b/w parent and the child. It highlights discoveries a child makes while growing up which leads to memorable bonding b/w kids and the parents.
This surprise factor and other differentiation strategy in packaging and distribution seem to have paid off as Kinder in the overall marketing plan