The IoT or Internet of Things is generally described as connection of various devices to the internet using sensors to capture key information, statistics, and communicate the data with one another.  The US National Security and Telecommunications Advisory Committee (NSTAC) has defined IoT based on three shared common principles of devices, platform and intelligence.
Market Size
The worldwide IOT market was estimated at US$800 billion in 2017 as per a few technology market research.  The IoT market is estimated to grow at a CAGR of 15% during the period 2018-2022 to reach US$1,610 billion in 2022.  The details ae illustrated below.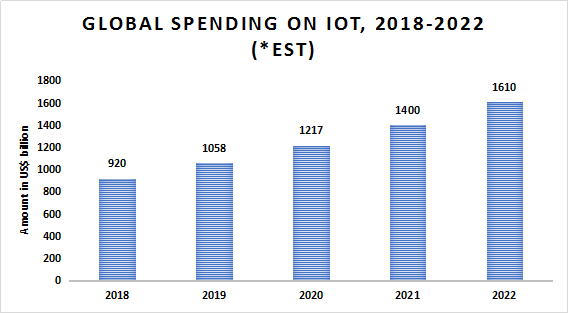 In terms of region, Asia Pacific (excluding Japan) will be the IoT investment leader with spending expected to reach $455 billion by 2021. The market is going to be followed by the US ($421 billion in 2021) and Western Europe ($274 billion), respectively.
Here is a summary of factors driving the demand for IOT across the world: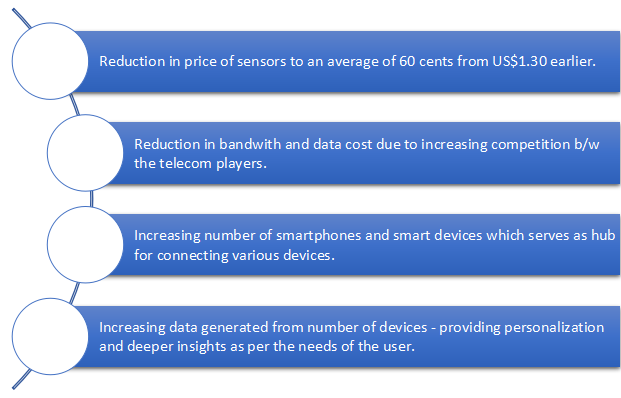 IoT finds its application across wide array of services including manufacturing operations, freight monitoring, production asset management, smart grids and smart buildings, among others.  In 2017, top use cases in terms of spending on IoT were manufacturing operations (US$105 billion), freight monitoring (US$50 billion), and production asset management (US$45 billion) according to a market analytics data.