The digital payment industry in India is stepping into new phase post the demonetization in Nov 2016.  With increasing mobile internet users, progressive regulatory policies the digital payment methods are rapidly increasing among all types of consumers.  Any purchase of goods or services through digital mode using internet is known as Digital Payment.  The money is transferred and received online without physical interaction of hard-cash, cheque or demand draft.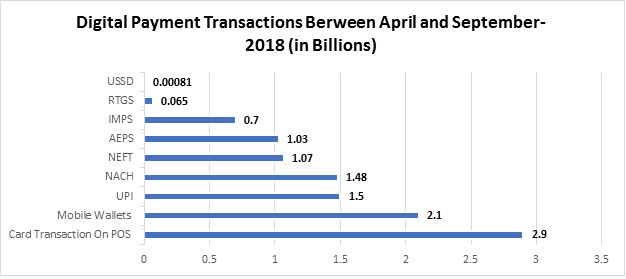 The market started to see growth with the increasing E-commerce companies followed by digital wallets.  More discounts, coupons and cashback offer from online ticketing and travel companies like Make My Trip, Clear trip, Book My Show etc. are encouraging consumers towards making payment through digital wallet in the travel segment.
In India the online payment industry is dominated by Micro transaction according to a market report and overall, 50% of person to merchant transactions are under Rs 100.  Digital payment instruments like UPI, digital wallets, Bharat QR contributes to 30% of the digital payment industry.  Further, the Indian digital payment industry is estimated to reach $500 billion in 2020, which will contribute 15% of the total GDP.
Even though there were higher expectations about the growing digital transactions for the year 2018, the number of transactions did make up to the estimate. There were 10.8 billion digital transactions occurred between April and September 2018 against the government target of 30 billion digital transactions.  The following chart shows the digital payment transactions during April and September-2018.