India is well-known for its food and beverages service industry.  It is one among the most vibrant industries which demonstrated unprecedented growth in the recent past.  The industries is continues to expand rapidly.  This growth can be attributed on account of changing demographics, growing disposable income, urbanization and growth of retail industry.
The food and beverage market was estimated at US$30.12 billion in 2015 and is expected to reach US$142 billion by 2020, with a compounded annual growth rate (CAGR) of 36.34%.  The sector is dominated mainly by traditional operators.  The brands and restaurant chains of both Indian origin and multinationals have not optimally penetrated the market so far.  The food and beverage sector has evolved over the past decade, giving rise to exciting new concepts in food and beverage offerings and new and innovative service elements.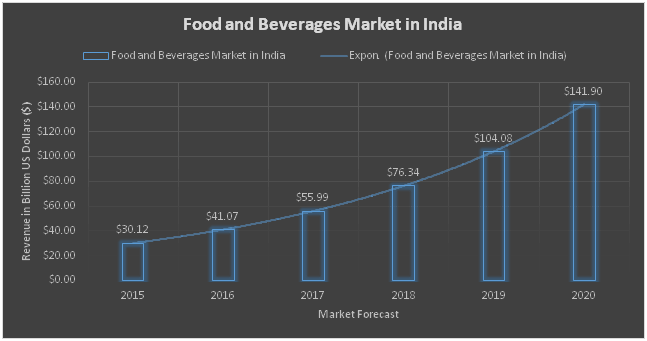 The food and beverages service market is dominated by unorganized segment and although it will decline significantly over the next 4-5 years, and it is likely to remain more than 60% of the market.  Quick Service Restaurants (QSR) and casual dining are the two most popular formats that form 45% and 32% of the overall market respectively.  The maximum growth being witnessed is still in the standalone restaurant space where local taste along with uniqueness of concept is the key deciding factor.
There is a wide acceptance for the segments like fine dining, casual dining, quick service restaurants, cafes in the recent past.  Below is the rough estimate of the market's composition;
Now here is an overview of the age-groups that prefer to eat outside;
With investments expected both for expansion and by new entrants, there will also be a rapid development of the entire value chain in India.  With emphasis on 'Make in India', it is expected that the major international players for kitchen equipment and processed food will set-up units in India to supply to this sector.  In addition, there will be several domestic entrepreneurs who will make investments to increase quality levels and standards to meet the requirements of the sector.