As per a recent report by The World Bank, ahead of China, India is set to emerge as a growing major economy by 2016.  The Gross Domestic Product (GDP) of India is expected to grow at 7.9% as per the reports by CRISIL, for the FY 2016-17.   The World Bank forecast is also reflects higher GDP growth of 7.9% and 8.0% for the years 2016 and 2017.  The improvement in India's economic fundamentals has accelerated in the year 2015 with the combined impact of strong government reforms, RBI's inflation focus supported by benign global commodity prices especially of the price of crude oil.
The World Economic Outlook of International Monetary Funds (IMF) released in April 2015 considers that  India ranks seventh globally in terms of GDP at current prices, and the country is expected to grow at 7.5% in 2016, which has actually gone up from 7.3% in FY2015 and 6.9% in FY2014.  The size of the Indian economy is estimated to be at US$2.01 trillion (INR129.57 trillion) for the year 2014 compared to US$1.84 trillion in 2013 (INR118.23 trillion).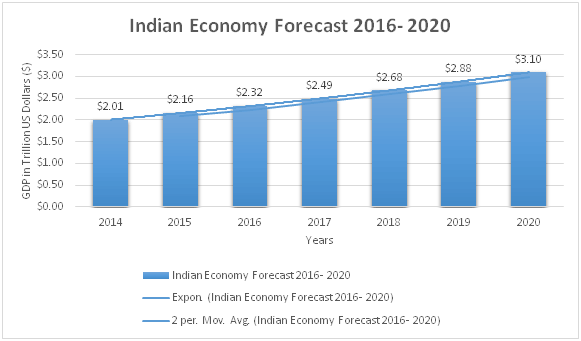 Efforts undertaken by the Government of India in recent years shown positive results as India's gross domestic product (GDP) at factor cost at constant (2011-12) prices 2014-15 is US$1.596 trillion (INR106.4 trillion), as against US$1.488 trillion (INR99.21 trillion) in 2013-14, registering a growth rate of 7.3%.
The comparatively lesser trade or dependence with China, and the comfortable foreign exchange reserves are a great advantage in terms of any imminent risk.  Hence in the near term the country is not vulnerable to any slowdown in global demand even there is not much immunity in the medium term.  Although India may be able to achieve higher GDP growth without export growth for a short period, sustaining high rates of GDP growth over a longer period will require a recovery of export growth as well