E-sports or professional gaming is generally defined as tournament style electronic games played by an individual player or multiple players for various prizes.  The rise of E-sports across the world is primarily driven by growing demand of games as a service from a business point of view,  and creation of new game streaming platforms from a technological side along with the growth of digitization.  The most popular type of genres in E-sport games are Fighting, Strategy, Multiplayer Online Battle Arena (MOBA), First Person Shooters(FPS), Sports and Racing.
Market Size
The E-sports market was estimated at US$493 million in 2016 according to market research.   The market is estimated to grow at a Compounded Annual Growth Rate (CAGR; 2017-2020) of 29% to reach US$2,470 million in 2022, as illustrated below.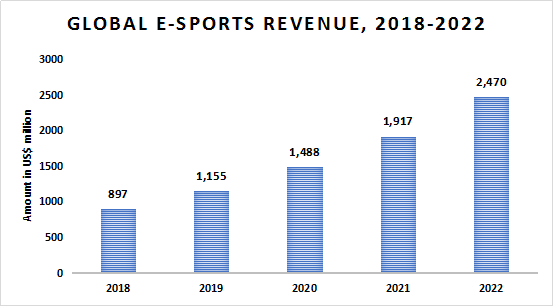 Sponsorships act as the largest revenue source for the E-sports industry and is estimated to grow to US$655 million by 2020.  The sponsorship in e-sports industry will be followed by media rights at US$ 340 million, and advertising at US$ 224 million during the same period.  The following graph below illustrates the segmented breakdown global E-sports revenue streams in 2017.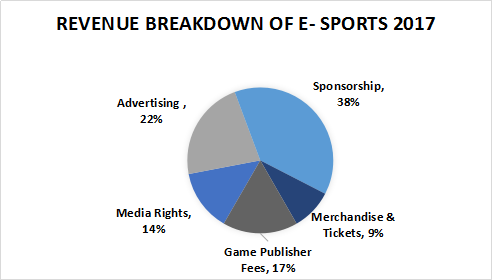 Major trends associated with the E-sport industry are illustrated below.