Don Tapscott famously coined the term "Digital Economy" in his 1995's best-seller "The Digital Economy: Promise and Peril in the Age of Networked Intelligence".  His work was centralized on how the internet would change the ways of conducting business in our world.  Since then the term has been expanded to apply it to a much mainstream version – entire economy – encompassing social and economic aspects.  "Digital Economy" in its simplest form is entire economic system of any nation or region, based on digital technologies.
In the past few years, India has been experiencing a massive surge in digital transactions, predominantly in the urban settings of the country.  Most recently, the demonetization of higher currency notes in India, which happened on the 8th of November 2016, has further pushed the people to adopt the digital methods of transactions to run day-to-day errands.
However, there exist several barriers or challenges to the complete adoption of Digital Economy concepts among the people.  For instance, a recently released RBI Concept paper on Card Acceptance Infrastructure 2016, pointed out some of the major issues/concerns faced by merchants and consumers regarding card payment option, as well as by card-issuing banks.  The following figure list out such problems faced regarding transactions through card-payment options in India.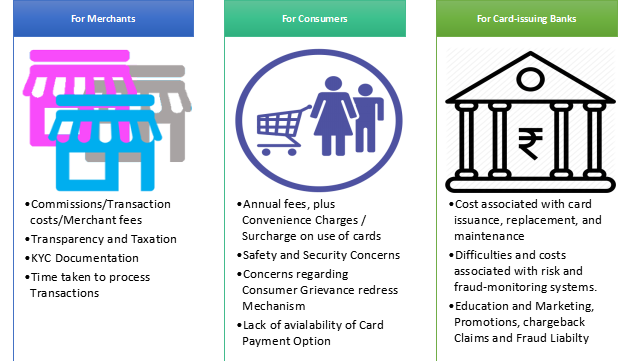 In 2016, another study conducted by Google and BCG featured key barriers to the adoption of "Digital Economy" concepts among the consumers.  "Habit of using cash" and "Complexity of Using (Digital Payment Methods)" were cited as the biggest barriers among the consumers, with 68% respondents claiming the former and 55% the latter.  Results of the study are presented in the figure below:
In addition, absence of adequate digital infrastructure seems to be one of the biggest challenge to Digital Economy notion in India.  Unreliable internet connectivity, along with poor smartphone penetration, and immense reliance on cash for transactions pose a great threat to Digital India mission of Indian Government.  Moreover, another biggest challenge among all seems to be the complete adoption of digital payment methods in rural India, where digital infrastructure is almost completely missing, literacy levels remains low and internet and smartphone penetration still seems bleak.
Several experts have claimed that such push to digital economy in a country like India where 98% of the transactions are cash-based, seems to be taken too soon and without any proper strategy.  To promote complete adoption among people, government of India needs to take several innovative steps to build proper digital infrastructure and propagate education regarding the use of digital transactions and their benefits, especially in the rural areas.  Also, offering people some time to adjust to the change, while spreading awareness and education would be considered as a very good start to achieve the notion of "Digital Economy".