The name Pegasus has brought a lot of curiosity among the public, of late.  Here is an outline of the company, as found in media, to explain what the company stands for, and an indication about the purpose of developing and promoting the software Pegasus.
Pegasus is a software product or its brand name. Pegasus is a cyber intelligence software that remotely and secretly extracts and monitors data from any mobile device.  This software was developed by a private Israeli company known as NSO Group Technologies Ltd (NSO). NSO was established in 2010 and is headquartered in HERZLIYA, Israel.
NSO Group is a subsidiary of the Q Cyber Technologies group of companies as of now. The company was originally registered at the State of Israel vide Companies Law, 5760-1999 on January 25, 2010, with company number 514395409. The Westbridge Technologies Inc, Francisco Partners invested in the company in November 2014. Further, on 14th February 2019, the company was acquired by its own management team with its base in Luxembourg, and the transaction was supported by the private equity firm NovalpinaCapital. By this time, Francisco Partners which made an investment in the company in 2014, exited the company. According to the NSO press release.  Novalpina Capital is an independent European private equity firm that invests in middle-market companies and is headquartered in the UK.  In the press release dated Feb 14, 2019, Francisco Partners confirms that the shift of headquarters of stakeholders to Luxembourg in 2019.
The company was founded with the objective of providing cutting-edge technology-enabled solutions to make the world a better place and to protect the country and its people from crime and terrorism as reiterated in its media outlets.  Here is more info about NSO as published in its profile.
NSO Group is a leading technology developer that licenses software solutions to governments and law enforcement agencies to investigate and prevent terror acts, fight crime and increase public safety. NSO's products have been successfully used to:
Prevent terrorism, including gun violence, car bombs, and suicide bombers at transportation hubs, public parks, markets, concert venues, sports arenas, and other public areas
Break up child exploitation, sex- and drug-trafficking rings, and money-laundering operations • Find and rescue kidnapped children
Assist emergency search-and-rescue (SAR) teams in locating survivors trapped under collapsed buildings in the wake of natural disasters or construction failures
Tackle the spread of COVID-19 and help governments plan lockdown exit strategies
The software, Pegasus, has been designed along the lines of spyware per the available info.  As such, once the software enters the target phone (usually without the target's knowledge since it is spying), the target users fall under 24/7 surveillance. It has been only used by governments, law enforcement, and government-recognized intelligence organizations. The NSO has 60 clients from 40 nations, divided into three categories: intelligence organizations (51%), law enforcement agencies (38%), and the military (11%) according to  media reports. The structure of clientele is as follows.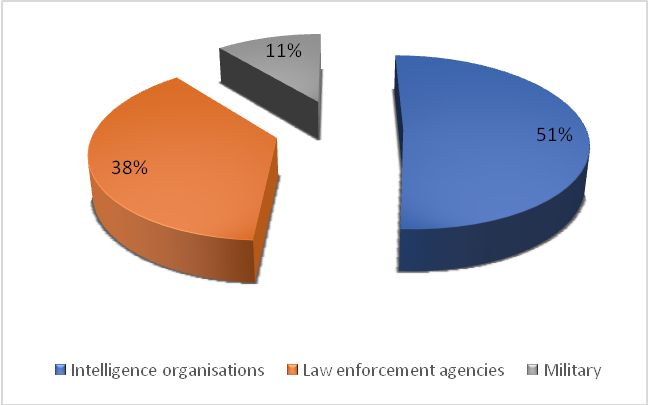 The above data give an indication that this software is not generally available for private persons or enterprises. This software falls under Computer Systems Design and Related Services Industry. The company NSO worth $1 billion USD, per the market information. DnB in its revenue estimate gives an indication that the company has an annual revenue of USD 1.74 million and employs 30 people which appears to be comparatively low considering the fees levied and a number of clienteles as reported above.
Pegasus is not the only product offered by the company.  NSO Group owns multiple tools including those that enable mobile phone geolocation, which is also used in search-and-rescue operations, data analytics systems, drones, and contact tracking to prevent the spread of COVID-19.  The NSO's search and rescue tools were utilized in the 2019 Brazil Dam collapse, the 2015 Nepal Earthquake, the 2017 Mexico Earthquake, and the 2016 Tel Aviv parking lot collapse.
The organizational structure and promoters' details are listed below as available in the company's website.

Shalev Hulio, the co-founder of NSO, served as a Major in the IDF Search and Rescue unit, where he now serves in the Army Reserve. The Search and Rescue Brigade is a highly skilled force trained to execute special search and rescue missions, both in Israel and abroad. In their latest mission, 71 soldiers were sent to Mexico to help rescue bodies from collapsed buildings after the September 2017 earthquake. Omri Lavie is the philanthropic CEO of Orchestra Group, which provides a comprehensive cybersecurity platform for proactive cyber protection. Novalpina Capital, an independent European private equity firm, owns the majority share of the company. Stephen Peel and Stefan Kowski, the company's founders, are also on the board of directors.
Pegasus appears to have been developed in 2017 or 2018.  According to a media report, this software has the capability of infiltrating target phones via traditional phishing methods or more.
Phishing methods are the mode of infiltrating into target or host equipment unknowingly without the consent of the host equipment.  Generally known Phishing methods are through enticing email, SMS, and WhatsApp messages to trick target or host equipment into opening a malicious link, which would lead to mobile device infection.  Pegasus can do such zero-click installs in a variety of ways.  The first known attack was reported in Mexico and thereafter the reported controversy occurred in 2019 with WhatsApp and thereafter that occurred in 2020.
Note:  The above information has been compiled based on newspaper publications and not based on any independent research done by DART Consulting.  A few such sources referred arehttps://www.nsogroup.com/wp-content/uploads/2021/06/ReportBooklet.pdfhttps://www.ft.com/content/24f22b28-56d1-4d66-8f76-c9020b1b5cb1.  https://www.dnb.com/business-directory/company-profiles.nso_group_technologies_ltd.2ae7ee49a1b0afd464a3cc7a8448ff0c.html#financials-anchor. Readers are advised to refer to respective literature/websites of the company to source more authentic data.
DART Consulting provides business consulting through its network of Independent Consultants.  Our services include preparing business plans, market research, and providing business advisory services.  More details at https://www.dartconsulting.co.in/dart-consultants.html