Venture capital funds and angel investors are proving to be a big boon for the Indian startup story.  Indian startups such as Flipkart, Olacabs, Snapdeal, Hike, Shopclues, Freecharge, Inmobi etc. have received various rounds of follow-on financing recently.  The funding has come both ways for the start-ups, from their existing investors and from many new investors.  There is a growing trend among the youngsters to be part of startups.  According to a poll by Inshorts and Ipsos, over 50% of the young Indian prefer working with startups over a large corporation.
Indian Start-ups Funding Trends & Number of Deals
The month of February'16 reported with higher flow of funds for the Indian startups while taking the investment picture for the first half year 2016.  Indian startups were able to receive around US$620 million in Feb from investors, and the numbers of deals were 108 in February alone.  Shopclues, Freecharge, Inmobi, etc. managed to secure sizeable funding in February.  Details as depicted in the following graph.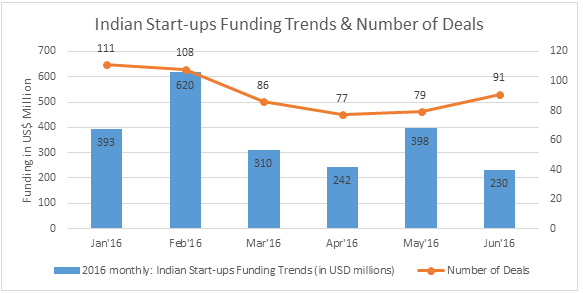 Quarterly – Indian Start-ups Funding Trends:
There is a decline in the funding in Q1'16 and Q2'16 while comparing with the previous year of Q1'15 and Q2'15, respectively.  Now, we need to wait for the Q3 of 2016 to clearly form an opinion about the funding trend.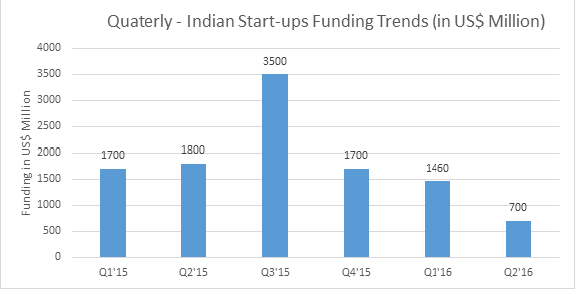 Fund flow in Indian Cities
Bengaluru has got the highest fund flow of US$780 followed by NCR-Delhi and Mumbai, with a fund flow of US$688 and US$563 million, respectively, in the period of six months.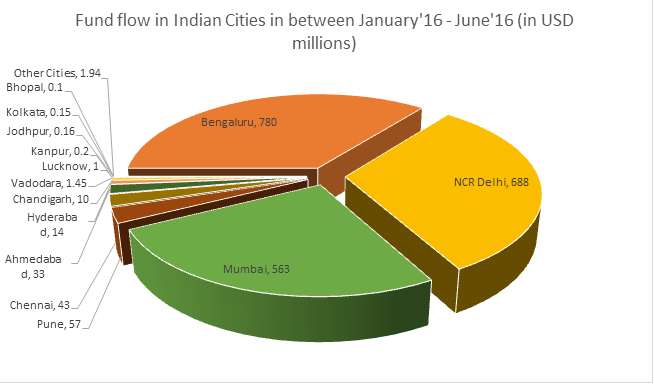 However, there is an interesting change in funding pattern of late.  The Tier-2 cities started attracting Venture Capital funding.  This may point out the improved infrastructure growth in such cities as well as it reflects the tendency of investors to move away the crumbling infrastructure and higher cost of operation in Tier-1 cities.  Tier-2 cities such as Lucknow, Kanpur, Jodhpur and Bhopal were able to attract the investors this year.  These cities could gather a fund of US$1 million, US$0.2 million, US$0.16 million and US$0.1 million, respectively.  Pune, Chennai, Ahmedabad, Hyderabad and Chandigarh attracted funding of US$57 million, US$43 million, US$33 million, US$14 million and US$10 million, respectively.
If we look at the number of deals in Indian cities in between Jan'16 and Jun'16, NCR Delhi region is at the top notch with 188 numbers of deals followed by Bengaluru and Mumbai with 156 & 100 deals, respectively.  Tier-2 cities such as Jaipur, Vadodara, Kanpur, Siliguri, Indore and Chandigarh were able to notch 11, 3, 3, 2 & 2 number of deals, respectively.  This shows that the Tier-2 cities are not far behind in doing the business and the market potential still exists.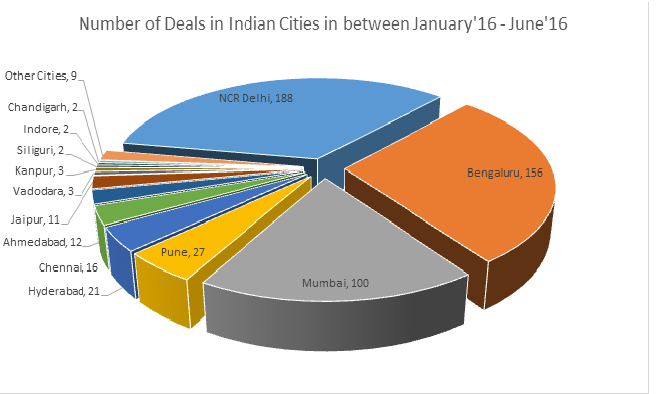 It looks like this year has not kick-started yet with respect to the funding for the startups as expected.  However, there are many investment coming from different part of the world because of the country's improving economic conditions.  Also, this year saw other emerging industries in the country gaining many investors' attention.
Choice of Industries to Invest in 2016-2017
With respect to industry, the investors' first choice is the Financial Technology startups followed by Enterprise/Software/SaaS, Healthcare Technology and Online Retail/Ancillaries startups, respectively.
In between Jan'16 to Jun'16, Melorra, an online 3D printing jewelry start-up was able to raise the highest investment of US$5 million from its investors.  iCustommadeit, an online marketplace for customized gifts, and DilMil, a dating app, were able to take the startup fund of US$4 million and US$2.7 million, respectively, in the funding rounds.  Flexclass, an online education platform, and mygubbi, a home décor firm, were able to generate a seed capital of US$2 million, each.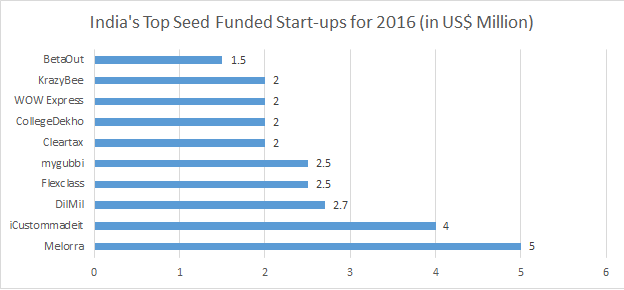 DART is closely following the startup segment, and will update in the next blog for the overall performance of the startup business in India.  It will be interesting to see how will the investors' preference and choices evolve based on the market potential, funds allocated in different industries and number of deals happened across the country.  Follow this thread to know about the industries that are receiving maximum funds, and the top start-ups in the country.