InsurTech is rapidly and silently growing across the insurance industry which will have wider ramifications in the industry in the coming years.  InsurTechis mainly the use of technology innovations to bring higher operating efficiency in the insurance industry.  Most of the major insurance companies have implemented one or other forms of technology which would result in faster enrolment, quicker processing, and reduce the scope for errors in its cycle.  The recent advancement of InsurTech will have its own effects in the insurance claim processing as well.  The insurance claim processing focuses on handling documentation related to insurance claims as arisen with major insurance companies. Mostly, it dealt with claims related to death, trauma, and disability.
The back office claim process eliminates many manual processes and provides considerable savings of time and money to the clients in addition to the benefits of reduced staff strength in their payroll.  The process needs to set up in compliance with applicable local laws and privacy acts of both entities. The higher the automation in the process it reaches lesser inaccuracy.  Hence, the implementation of a higher level of technical expertise provides a competitive edge in the industry.  It combines data analytics and digital engagement to enhance a better user experience.  This will enable the company to detect fraud, reduce manual work, enable and shorten the time of claim settlement.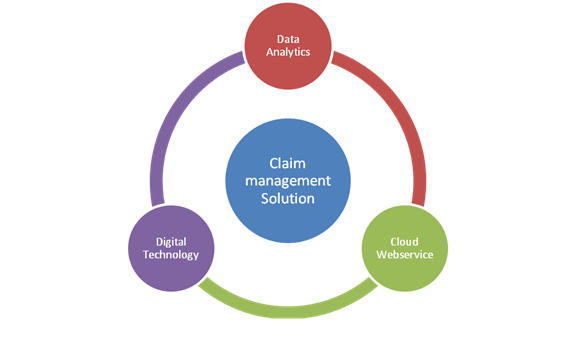 Data and Analytics: The elements of data analytics help in fraud detection as well as it helps to bring out performance statistics, and generate customer information to provide gainful insights of the market as well as a customer segment. The advanced data analytics system will enable us to gain access to more data available to analyze it across multiple formats – including PDF and scanned documents.  The recent advancement of InsurTech would result in greater scope for dong data analytics in the processing sector
Digital Engagement: By leveraging digital technology, the service provider will be able to provide a self-serve digital platform to the customers where they handle their own claim process.  In addition, the digital claim technology focusses on providing unique capabilities in self-service, live video streaming, and smartphones and visualize the output in different ways.
Cloud Web Service: The Insurance industry acknowledges the significance of cloud consulting and understands the need to adopt it. Cloud web service enables the claimants to report, upload videos, images, text, PDFs, and other documents online.  This will enable also claimants to manage their claims online. While selecting technology one needs to ensure the following components in the technology infrastructure set up.
Electronic Reporting Facilities
Validating policy and claimant data.
Eligibility check
Payment calculation- benefits and premiums
Insurance review
Premium Statement generation
Claim data capture
Generating customized, standard reports.
Online access to claim documentation
Online access to reports
Legal services
Investigation services
There is great potential for countries and locations which can enable technology to develop InsurTech products and provide solutions for the electronic claim processing.